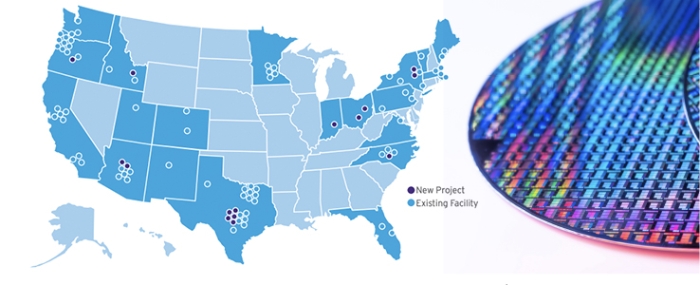 Business |
The U.S. CHIPS Act is already making an impact
Yesterday, Evertiq reported that the U.S. CHIPS Act has already sparked USD 200 billion in private investments across the country. But where are all of these new fabs going to be built?
The Semiconductor Industry Association (SIA) pointed out in a report that over 40 new semiconductor ecosystem projects have been announced across the U.S. since May 2020. We're talking new fabs, expansions of existing sites, and also facilities that supply and produce materials and equipment for the semiconductor industry.
Count it all up and these projects are valued at nearly USD 200 billion in private investments, announced across 16 states. All of this means that about 40,000 new high-quality jobs are being created in the semiconductor ecosystem as part of the new projects.
Let's dissect the information from SIA and see where all of these manufacturing operations will take place.
State
Company Name
City/County
Investment
Type
Employment (Direct)
Arizona
Intel
Chandler
$20 billion
New
3000 (2 fabs)
TSMC
Phoenix
$40 billion
New
4500 (2 fabs)
California
Western Digital
Fremont/San Jose
$350 million
Expansion
240
Florida
SkyWater
Osceola County
$36.5 million
Expansion
220
Idaho
Micron
Boise
$15 billion (through 2030)
New
2000
Indiana
SkyWater
West Lafayette
$1.8 billion
New
750
NHanced
Odon
$236 million
New
413
Everspin Technologies
Odon
Unknown
New
35
Trusted Semiconductor Solutions
Odon
$34 million
New
40
Kansas
Radiation Detection Technologies
Manhattan
$4 million
Expansion
30
New Mexico
Intel
Rio Rancho
$3.5 billion
Expansion
700
New York
Micron*
Clay
$20 billion ($100B over 20 years)
New
9000 (4 fabs)
Global Foundries
Malta
$1 billion
Expansion
1000
North Carolina
Wolfspeed
Chatham County
$5 billion (over 10 years)
New
1800
Ohio
Intel
New Albany
$20 billion ($100B over 10 years)
New
3000 (2 fabs)
Oregon
Analog Devices
Beaverton
$1 billion
Expansion
280
Rogue Valley Microdevices
Medford
$44 million
New
Unknown
Texas
Samsung
Taylor
$17 billion
New
2000
Texas Instruments
Sherman
$30 billion (through 2030)
New
3000 (4 fabs)
Texas Instruments
Richardson
$6 billion
Expansion
800
NXP
Austin/TBD
$2.6 billion
Expansion
800
Utah
Texas Instruments
Lehi
$3 billion
Expansion
1100
TOTAL
$186.6 billion
(up to $346.6 billion)
34,708 jobs
Semiconductor manufacturing investments in the next 10 years (projects announced from May 2020 – Dec 2022)
* Micron announced total investments of up to USD 100 billion over a time frame beyond 10 years, however, this table only reflects investments made over the next decade. (Links contain further information on each project).
Suppliers of materials, chemicals, and equipment are also responding to the increase in fab construction. As a result, businesses that provide wafers, high-purity chemicals, equipment for semiconductor manufacture, and specialty gases have announced plans to invest in a number of facilities to support growing domestic manufacturing capacity. All tallied up, these announcements are – currently – valued at USD 9 billion over the next 10 years, and will result in 4,971 new jobs. Among these projects, we find companies such as ASML, Hemlock Semiconductor, SK Siltron CSS, EMD Electronics, Edwards Vacuum and Globalwafers. These projects will take shape in the states of Arizona, Connecticut, Georgia, Michigan, New York, Oregon and Texas.