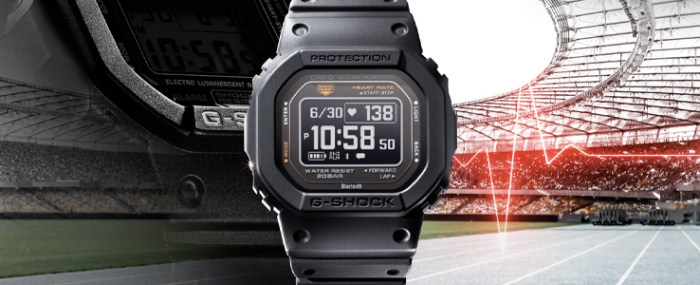 Electronics Production |
Austrian mainboards in Japanese cult watch
The G-Shock, the cult wristwatch from Japanese manufacturer Casio is coming in a new smart version. AT&S, the Austrian microelectronics company, is providing robust mainboards for the wristwatch.
For 2023, Casio has decided to give the robust wristwatch some smarts. The DW-H5600 is still very much a G-Shock, but with a pedometer and sensors for monitoring heart rate and sleep quality – making it a fitness- and health-tracking watch.
However, with the G-Shock name the new smart DW-H5600 has some big shoes to fill. The G-Shock has become somewhat synonymous with being indestructible. To ensure that the DW-H5600 can match the robustness of its predecessors despite its more complex design, Casio relies on mainboards from AT&S.
"The technology we supply for Casio is proven. These boards are very hard-wearing and therefore a perfect fit for the equally robust G-SHOCKs", says Andreas Wippel, VP Sales of BU ES at AT&S in a press release.
The collaboration between Casio and AT&S worked smoothly right from the start and Andreas Wippel is pleased with the result of this cooperation and the Japanese electronics manufacturer was reportedly particularly enthusiastic about ATS&'s high-tech production capabilities.
Today AT&S has a global presence with production sites in Austria (Leoben, Fehring) and plants in India (Nanjangud), China (Shanghai, Chongqing) and Korea (Ansan near Seoul). A new high-end production site for IC substrates is currently being established in Kulim, Malaysia. In Leoben, a European competence centre including series production is being built.