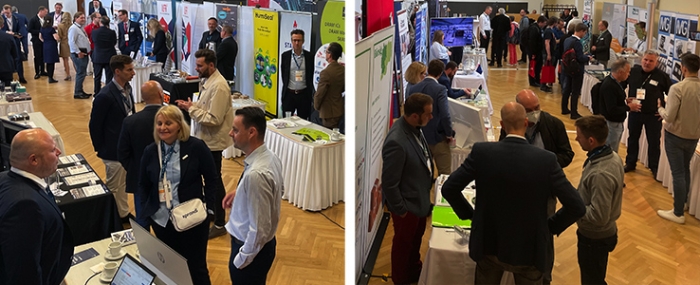 Electronics Production |
The stage is set for Evertiq Expo Berlin
Time is drawing close for Evertiq's second-ever Expo in the German capital. This year Evertiq has paid close attention to the ongoing developments in the market and the world at large and organised a program that we feel reflects just that.
Germany is recognised over the world as an innovative microelectronics production and research location. The electronics industry in Germany is also Europe's leading production and sales market, making the country a given choice to hos an Evertiq Expo.
Data from the German Electrical and Electronic Manufacturers' Association (ZVEI) 2021 shows that the country's electronics sector is responsible for ten% of the domestic industrial output, three% of GDP and 23% of total country R&D spending. The electronics sector counts as the second largest branch in Germany and employs 867,700 people domestically and another 777,000 abroad.
Evertiq Expo Berlin will take place at the Bunsen-Saal in the Berlin Adlershof Science City. As always, a conference program will run parallel with the Expo – a program which Evertiq feels reflects current market developments.
Depaneling using laser technology is gaining more and more traction on the market as demand for excellent cutting quality and increasing cost pressure has forced companies to reevaluate the use of traditional production methods. Dirk Bäcker from LPKF Laser & Electronics and Javier Gonzalez of InnoLas Solutions will, in two separate presentations how the technology can benefit companies by improving the durability of electronics, and increasing yield while also reducing manufacturing costs.
The Chips Act: a European answer to a global challenge
In February 2022 the European Commission proposed a bundle of measures to ensure the EU's security of supply, resilience and technological leadership in semiconductor technologies and applications. The European Chips Act aims to bolster Europe's competitiveness, resilience and help achieve both the digital and green transition. Nikolaus v. Peter, European Commission, Representation in Germany, will provide an overview of the Act and inform about the state of its implementation.
Component Obsolescence – How to minimise the costs and risks
Electronic Component life cycles between launch and Obsolescence are shortening. A large percentage of the world's electronic component demand is driven by consumer electronics and this market typically has shorter and shorter product lives. Obsolescence is therefore affecting more companies, more regularly than ever before. Ronny Nietzsche of Rochester Electronics will share his expertise on the subject, the impact of obsolescence and how it can be managed.
The global chip race – Chip Act against Chip Act
In the wake of the global semiconductor shortage, the US and the EU are both planning to invest significant sums of public funds to increase domestic semiconductor manufacture, otherwise known as the Chips Acts. But how do these semiconductor promotional acts compare against each other? Evertiq will during this presentation look back at the reason for their existence, comparing strategies and funding, while also paying attention to the effects of the already implemented US Act.
Resilient electronics made possible by modern software
Resilient electronics are crucial in ensuring the reliability and longevity of electronic assemblies. Achieving optimal functionality, compliance, manufacturability, and supply while maintaining cost, time, and sustainability can be an overwhelming challenge for any electronics value chain. But with modern software and the targeted utilisation of digital twins, this task becomes more tangible than ever before. Max Pflücke from Luminovo GmbH will explore the challenges, implications, and opportunities associated with resilient electronics.
Evolution of electronic component counterfeiting and detection of advanced counterfeits
The Component Obsolescence Group (COG) estimates that in 2018 about 4% of electronic components worldwide were counterfeits. The dangers posed by counterfeited electrotechnical components are much more severe than merely financial damage. Should such components end up inside medical equipment, safety technology, or even worse, in aircraft, those manipulated components can – and will – cost lives. Even the Pentagon has had to deal with counterfeit components. In 2010, a US broker was shut down and the owner convicted of fraud for selling manipulated electronic components, which ended up in US Air Force fighter jets and in train braking systems, among other products.
This makes it clear how important it is to detect counterfeit components in advance in order to minimize the danger they pose. A variety of different examination methods like (optical) light microscopy, X-Ray inspection, XRF, Scanning Acoustic microscopy etc. are used for this purpose. In this presentation, Fabian Zentner from HTV Conservation GmbH will provide insights into the fight against manipulated components, as well as insight into the company's experience with counterfeit electrical components, and show how counterfeiting has changed over time and how these forgeries are becoming increasingly difficult to detect.
After the Big Shortage – How global distribution shifts towards digital supply chain management
The electronics components industry as one of the most dynamic industries on the planet regularly falls victim to its cyclicality – major swings from oversupply to severe allocations. The last 2 years have seen an outrageous mix of transportation problems, demand surges and severe shortages across many component families that even in the current downturn still exist.
While cyclicality will stay with us forever, the question arises "how to mitigate the problems of supply and demand mismatches by digital means?" The future supply chain will get more complicated and will need more digital tools to create a quasi-global transparency on product information, availability alerts and transactional processes.
Georg Steinberger, a 35-year industry and distribution veteran, will in this presentation try to show ways of improving supply chain transparency by a cooperative approach across company boundaries.