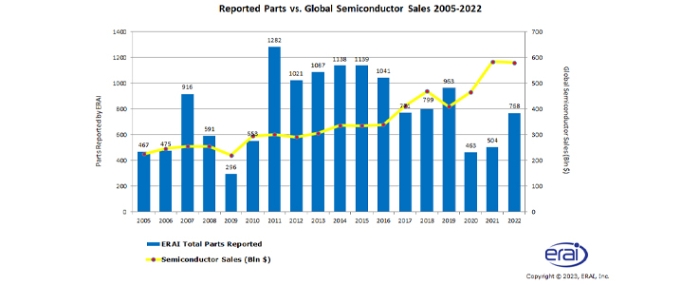 Analysis |
The evolution of electronic component counterfeiting
In 2022 ERAI, a global organisation that monitors, investigates, and reports issues affecting the global electronics supply chain, reported a total of 768 suspect counterfeit and nonconforming parts showing a marked increase over the last three years.
The organisation states in its 2022 annual report that the number of reported parts increased by 35% between 2021 and 2022, despite worldwide semiconductor sales remaining relatively flat during the same period. A return to pre-Covid operations for many enterprises, as well as the reopening of global supply chains, may have contributed to the increase.
Evertiq has on numerous occasions reported that the flow of counterfeit components tends to increase during times of shortage. The dangers posed by counterfeited electrotechnical components are much more severe than merely financial damage. Should such components end up inside medical equipment, safety technology, or even worse, in aircraft, those manipulated components can cost lives. For this reason, Evertiq has once again invited experts to dive deeper into the topic during the upcoming Evertiq Expo Berlin on 29 June 2023.
Digging deeper into the 2022 data from ERAI we can see that the distribution of the most commonly counterfeited components remained unchanged compared to the previous 5 and 10 years. Analog ICs, programmable logic ICs and microprocessor ICs are still the most targeted component types – accounting for more than half of the reported component types during the year.
The most interesting statistic from ERAI's 2022 annual report is that the majority of the parts reported in 2022 – a whopping 80,5% actually – were new occurrences and had not previously been reported. Only a fraction of the 19.5% previously reported parts were reported more than once. Why is this so interesting? Because this means that companies must be especially cautious when sourcing parts as previously unidentified counterfeit parts are constantly entering the supply chain, and the risk of meeting one of these parts remains quite high.
When ERAI examined the availability status of the components, at the time of reporting, 62.2% of them were labelled as "active" parts and only 32,5% as "obsolete". This in many ways goes against the notion that "if you don't acquire old parts, you're less likely to come across counterfeit parts."
The data provides proof of how important it is to detect counterfeit components in order to minimise the danger they actually do pose. There are a number of different methods to do so, (optical) light microscopy, X-Ray inspection, XRF, and Scanning Acoustic microscopy, they all have their purpose and place.
During Evertiq Expo Berlin 2023, Fabian Zentner, Failure Analysis Scientist at HTV Conservation GmbH, will hold a presentation on the detection of advanced counterfeits and share current insights from the lab. Mr Zentner will provide data on how counterfeiting has changed over time and how these forgeries are becoming increasingly more difficult to detect.