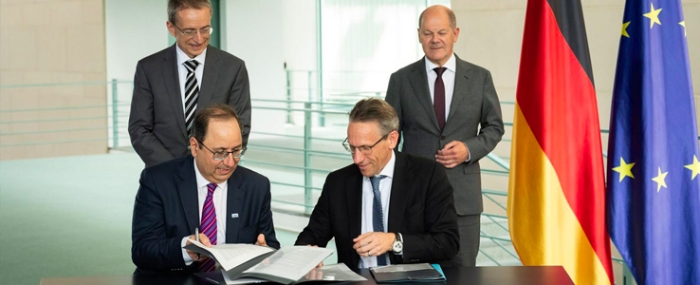 Business |
A deal has been reached – Intel will receive more support from Germany
Intel and the German federal government have signed a revised letter of intent for Intel's planned leading-edge wafer fabrication site in Magdeburg, Germany.
The agreement includes Intel's expanded investment in the site, which is now expected to be more than EUR 30 billion for two first-of-a-kind semiconductor fabs in Europe, along with increased government support that includes incentives that reflects the expanded scope and change in economic conditions since the site was first announced.
When the US chipmaker first announced its plans for Germany in March last year, the company said it would invest EUR 17 billion in the mega-site in Magdeburg. Since then the cost analysis has changed. Increasing construction costs, skyrocketing energy prices and the fact that the company would like to deploy a more cutting-edge technology in the facility than originally intended, has all lead to a need for increased funding to make the project a reality.
Intel acquired the land for the project in November 2022, and the first facility is expected to enter production in four to five years following the European Commission's approval of the incentive package. Given the current timeline and scale of the investment, Intel says that it plans to deploy more advanced Angstrom-era technology in the facilities than originally envisioned.
"Building the 'Silicon Junction' in Magdeburg is a critical part of our strategy for Intel's growth. Combined with last week's announcement of our investment in Wrocław, Poland, and the Ireland sites we already operate at scale, this creates a capacity corridor from wafers to complete packaged products that is unrivaled and a major step toward a balanced and resilient supply chain for Europe," says Intel CEO Pat Gelsinger in a press release. "We're grateful to the German federal government, Chancellor Olaf Scholz and the government of Saxony-Anhalt for their partnership and shared commitment to fulfilling the vision of a vibrant, sustainable, leading-edge semiconductor industry in Germany and the EU."
Intel's investment is expected to drive significant economic benefits not only in Magdeburg and Saxony-Anhalt, but across the country and throughout the European Union. Along with Intel's existing wafer fabrication facility in Ireland and its recently announced assembly and test facility in Poland, the new wafer fabrication site in Magdeburg will create a first-of-its-kind, leading-edge end-to-end semiconductor manufacturing value chain in Europe.
"Today's agreement is an important step for Germany as a high-tech production location – and for our resilience. Intel's semiconductor production in Magdeburg is the single largest foreign direct investment in German history. With this investment, we are catching up technologically with the world's best and expanding our own capacities for the ecosystem development and production of microchips. This is good news for Magdeburg, for Germany and for all of Europe," says Chancellor Olaf Scholz of Germany.