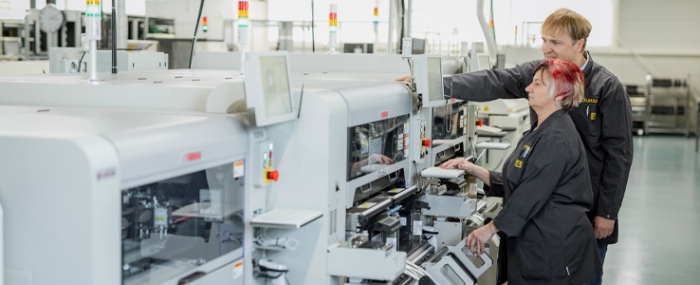 Electronics Production |
Ouman adds new robotic assembly line at its Estonian factory
Finnish electronics manufacturer Ouman has added a new production line at its factory in Kuressaare, Estonia. The robotic assembly line increases the factory's surface mount capacity by 50%.
This new production capacity will support the company's rapid growth in building automation products.
"The new capacity is very welcome indeed. The energy crisis has increased the sales of our products considerably, and we have had to buy surface mounting capacity from elsewhere for some time already. It's great to be able to do everything in-house," says Matti Lipsanen, Ouman Group's CEO, in a press release.
The price increase for electricity and district heating is said to be the primary cause of the increased demand. This has encouraged major real estate owners and housing cooperatives to invest in energy optimisation. This is also reflected in Ouman's building automation business revenue, which increased by 305% in the first quarter of 2023. In 2022, the revenue of the entire group grew 15%, reaching 45 million euros.
The new robotic assembly line quickly attaches components to circuit boards and precisely solders them in the appropriate locations using machine vision. Up to 95,000 components can be mounted each hour, or 26 components per second, using the SMT line. Ouman invested a total of EUR 1.5 million in the new line, which was delivered by Yamaha Robotics SMT, in cooperation with CORE-emt.
"The robots will take care of the mounting as much as possible, and the rest is done by hand. All of our unit controllers and system devices contain circuit boards, so this is an essential part of production," says Erik Keerberg, CEO of Ouman Estonia, in the press release.
The facility has two previous SMT lines with a combined capacity of about 45,000 components per hour. One of these two old lines will now be utilised for R&D purposes.