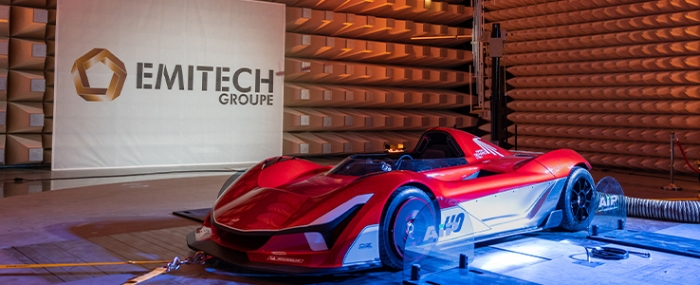 General |
Emitech Group opens its new €10 million test centre
Emitech, a French player in environmental testing to ensure compliance with applicable standards and regulations, has inaugurated its new test centre dedicated to the electromagnetic compatibility (EMC) of electronic equipment, as well as vehicle homologation and large system qualification.
Emitech's laboratories are specialised in environmental testing, subjecting equipment to stresses representative of real-world conditions such as extreme temperatures, high humidity, vibration, shock, dust, corrosion and other environmental factors to assess their compliance.
The new test centre in Montigny le Bretonneux has the largest (27m x 18m x 10.5m) and most recent Faraday cage built in France. This facility is dedicated to EMC testing to ensure that electronic equipment works together without interference. It is used to meet the needs of homologation (UN ECE R10) of a wide range of vehicles, as well as for the qualification of large systems.
The centre has a 2 or 4 wheel drive chassis dynamometer for vehicles to be tested in running order, which can simulate speeds of up to 120km/h and wind speeds of up to 60km/h, with a wheelbase of up to 6 metres and a carrying capacity of up to 6 tonnes per axle, allowing test campaigns to be carried out on truck tractors or agricultural equipment.
The facility includes various easements to accommodate all current and future motorisations: petrol or diesel combustion engines, micro-hybrids, hybrids and rechargeable hybrids, electricity and hydrogen. It also has a heavy load area that can support up to 40 tonnes, allowing it to accommodate construction machinery and equipment of high tonnage and volume encountered in the various sectors of defence, aeronautics, rail, nuclear and industry.
This new EUR 10 million investment is part of the Emitech Group's strategy to support sustainable mobility. It reinforces the Group's skills in the evaluation of anti-pollution devices with Euro6 and Euro7 measures to support manufacturers and equipment suppliers in their objectives of lowering pollutant emissions. The Emitech Group's testing and engineering solutions also extend to vehicle sub-assemblies such as lithium-ion batteries, hydrogen fuel cells and powertrains.