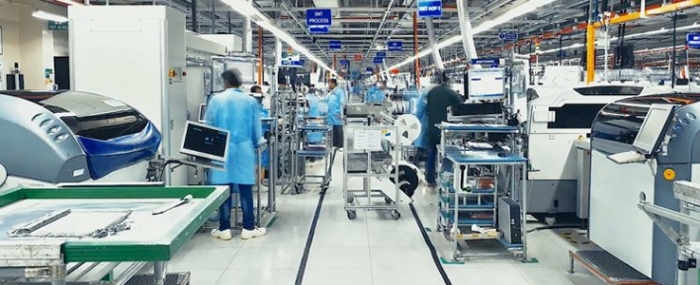 Electronics Production |
MMI: Global top 50 EMS companies surpassed $457 billion in revenue
In 2022, Top 50 EMS sales accounted for USD 457 billion in revenue – an increase of USD 40 billion, or 9.5%, from 2021, reports Manufacturing Market Insider (MMI).
Top 50 sales expanded dramatically from the previous year, exceeding the growth of the OEM market by more than double. MMI tabulates its ranking information through an annual survey of over 100 of the largest EMS companies worldwide.
In recent years, Top 50 expansion has received a boost from EMS giant Hon Hai Precision Industry (Foxconn) because of its size and strong growth rate. This year, Foxconn's revenue depressed the total industry growth by only expanding 0.6% in 2022. Industry participants cannot expect the company's revenue to continue to expand at double-digit rates, as these large numbers are difficult to sustain compared to those of Tier 2–4 suppliers, which have grown rapidly over the last few years due to acquisitions.
An example of this was Pegatron which experienced negative growth in 2022 of -0.2%. But better results were reported by Wistron, which achieved positive 7.1% revenue growth, along with Jabil, which experienced 15.1% revenue growth, moving it into a third-place position in the industry. As far as the fastest growing companies, GPV Group ranked in first place with a YoY growth of 65.1%, followed closely by Kitron with a growth of 56.3%, Kaga Electronics with a growth of 55.6%, and DBG with 43.9% growth. All MMI international currency conversions are based on average annual conversion rates established by the U.S. Federal Reserve.
It is worth pointing out that in 2022, GPV finalised the merger with Enics and formed GPV Group. And in early 2022 Kitron completed its acquisition of BB Electronics.
MMO states that overall, the APAC region accounted for around 77.6% of the Top 50 EMS revenue, the Americas represented 20.4% of revenue, and the EMEA region constituted 23.1%, mainly due to extensive activity in acquisitions. It took a minimum of USD 444 million in sales to make the Top 50 – an increase of USD 12 million in revenue.
For 2022, the top 10 accounted for 89.0% of Top 50 sales, down from 92.8% in 2021, still illustrating that the EMS industry remains top-heavy. The bottom 40 together produced a 12.2% growth rate, increasing from USD 44.5 billion in 2021 to a reported USD 50.0 billion in 2022