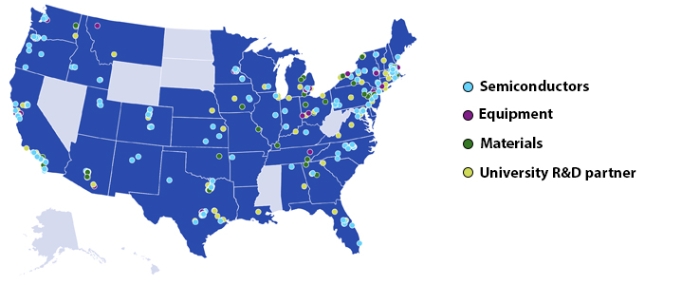 Analysis |
A visualisation of the growing US semiconductor ecosystem
The semiconductor ecosystem in the United States is broad and diverse, a new mapping by the Semiconductor Industry Association (SIA) illustrates nearly 500 locations in 42 states – all a part of this expansive ecosystem.
The US semiconductor ecosystem is comprised of manufacturing, chip design, IP and chip design software providers, semiconductor materials and manufacturing equipment, and R&D, including university R&D partners of the Semiconductor Research Corporation (SRC) and the National Nanotechnology Coordinated Infrastructure (NNCI).
SIA's research into the US Semiconductor Ecosystem is being presented via an interactive map, and while digging into the data it becomes clear that the US semiconductor manufacturing footprint is big, probably bigger than most people realise.
There are currently 102 existing semiconductor manufacturing facilities in the country. Adding to this are 17 announced new projects and 10 announced expansion projects – all related to semiconductor manufacturing.
In total, however, looking at the entire semiconductor ecosystem, the US has 474 existing facilities engaged in either manufacturing, equipment, materials or R&D. But, the ecosystem is set to grow as there are 57 announced new projects and expansion projects on the horizon.
As pointed out by SIA, the investments for new and expanded semiconductor ecosystem projects cover a range of activities needed to bolster the domestic chip ecosystem. This includes new, expanded, or upgraded fabs in various semiconductor segments (advanced logic, memory, analog, and legacy chips), semiconductor equipment facilities, as well as facilities to produce key materials used in the manufacturing process. Evertiq has previously reported on the, up until now, announced investments across the country – all in some way related to the U.S. CHIPS Act.
Project after project, looking to expand manufacturing capacity in the US, has been announced between the time the CHIPS Act was introduced in the spring of 2020 and the months after its passage in August 2022.
In total, over USD 210 billion in new private investments have been announced across 19 states to increase domestic manufacturing capacity.
"Over 50 new semiconductor ecosystem projects announced across the U.S., including the construction of new fabs, expansions of existing sites, and facilities that supply the materials and equipment used in chip manufacturing. 44,000 new high-quality jobs announced in the semiconductor ecosystem as part of the new projects, which will support many more jobs throughout the broader U.S. economy," SIA writes in the update.
---
During Evertiq Expo Malmö, Krakow and Berlin 2023, Evertiq will present a comparison between the US CHIPS Act and the EU's counterpart. How do these stack up against each other? What are the key differences? How have other countries and regions reacted to these large-scale semiconductor projects? And above all – what are the effects of these so far? These are the questions that we intend to dive deeper into.