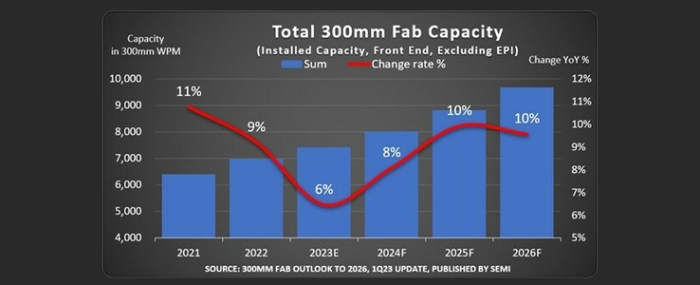 Analysis |
All-time high in store for global 300mm semiconductor fab capacity
Semiconductor manufacturers worldwide are forecast to increase 300mm fab capacity to an all-time high of 9.6 million wafers per month (wpm) in 2026, SEMI reports.
After strong growth in 2021 and 2022, the 300mm capacity expansion is expected to slow this year due to soft demand for memory and logic devices.
"While the pace of the global 300mm fab capacity expansion is moderating, the industry remains squarely focused on growing capacity to meet robust secular demand for semiconductors," said Ajit Manocha, SEMI President and CEO, in a press release. "The foundry*, memory and power sectors will be major drivers of the new record capacity increase expected in 2026."
Chipmakers expected to increase 300mm fab capacity during the 2022 to 2026 forecast period to meet growth in demand include GlobalFoundries, Hua Hong Semiconductor, Infineon, Intel, Kioxia, Micron, Samsung, SK Hynix, SMIC, STMicroelectronics, Texas Instruments, TSMC and UMC. The companies are planning 82 new facilities and lines to start operations from 2023 to 2026.
Regional Outlooks
Due to U.S. export controls, China will continue to focus government investments on mature technology to lead in 300mm front-end fab capacity, increasing its global share from 22% in 2022 to 25% in 2026, reaching 2.4 million wafers per month, the SEMI 300mm Fab Outlook to 2026 shows.
Korea's worldwide 300mm fab capacity share is expected to slip from 25% to 23% from 2022 to 2026 on weak demand in the memory market. Taiwan is on track to retain third place despite a slight dip in share from 22% to 21% during the same period, while Japan's share of worldwide 300mm fab capacity is also expected to edge down, from 13% last year to 12% in 2026, as competition with other regions increases.
Powered by strong demand in the automotive segment and government investment, the Americas and Europe & Mideast are expected to see 300mm fab capacity share growth from 2022 to 2026. The Americas' global share is forecast to rise 0.2% to nearly 9% by 2026, while Europe & Mideast is projected to increase its capacity share from 6% to 7% and Southeast Asia is expected to maintain its 4% share of 300mm front-end fab capacity during the same period.
Projected Capacity Growth Rates by Sector
The SEMI 300mm Fab Outlook to 2026 shows that analog and power leading other sectors in capacity growth at a 30% CAGR from 2022 to 2026, followed by foundry at 12%, opto at 6% and memory at 4%.
---
*Foundry segment includes micro and logic devices