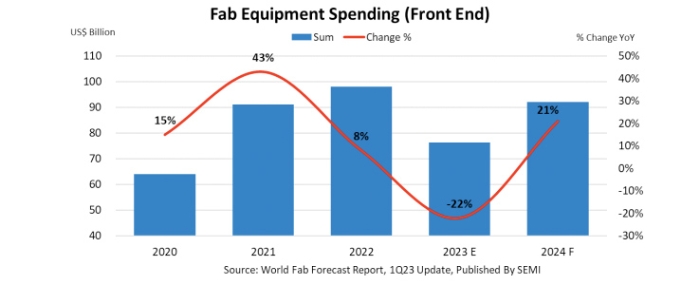 Analysis |
Global fab equipment spending to recover in 2024 after 2023 slowdown
Global fab equipment spending for front-end facilities is expected to decrease 22% YoY to USD 76 billion in 2023 from a record high of USD 98 billion in 2022 before rising 21% YoY to USD 92 billion in 2024 to reclaim lost ground, SEMI reports.
SEMI says that the 2023 decline will stem from weakening chip demand and higher inventory of consumer and mobile devices.
Next year's fab equipment spending recovery is expected to be driven in part by the end of the semiconductor inventory correction in 2023 and strengthening demand for semiconductors in the high-performance computing (HPC) and automotive segments.
"This quarter's SEMI World Fab Forecast update offers our first look ahead to 2024, highlighting the steady global expansion of fab capacity to support future semiconductor industry growth driven by the automotive and computing segments and a host of emerging applications," said Ajit Manocha, SEMI president and CEO, in a press release. "The report points to a healthy 21% uptick in equipment investment next year."
Taiwan continues to lead equipment spending
Taiwan is expected to retain the global lead in fab equipment spending in 2024 with USD 24.9 billion in investments, a 4.2% YoY increase, followed by Korea at USD 21 billion, a YoY 41.5% jump. While China is forecast to place third in equipment spending worldwide in 2024, U.S. export controls are expected to limit the region's spending to USD 16 billion, comparable to the region's investments in 2023.
The Americas is expected to remain the fourth largest region in spending with a record USD 11 billion in investments in 2024, a 23.9% YoY increase. Europe & Mideast is also forecast to log record investments next year, increasing spending by 36% to USD 8.2 billion. Fab equipment spending in Japan and Southeast Asia is expected to increase to USD 7.0 billion and USD 3.0 billion, respectively, in 2024.
The foundry segment continues to lead the semiconductor industry expansion
Covering 2022 to 2024, the SEMI World Fab Forecast report shows the global semiconductor industry increasing capacity by 4.8% this year after a 7.2% rise in 2022. Capacity growth is expected to continue in 2024, rising 5.6%.
With more suppliers providing foundry services to increase global capacity, the foundry segment is expected to lead the semiconductor expansion in 2023 with USD 43.4 billion in investments, a 12.1% YoY decline, and USD 48.8 billion, a 12.4% increase, in 2024. Memory is forecast to place second in global spending in 2023 despite a 44.4% YoY decline to USD 17.1 billion, with investments rising to USD 28.2 billion next year.
Unlike other segments, analog and power will see a steady expansion with a forecast spending increase of 1.3% to USD 9.7 billion in 2023 on the strength of stable growth in the automotive market. Investments by the segment are expected to remain flat next year.
The latest update of the SEMI World Fab Forecast report, published in March, lists 1,470 facilities and lines globally, including 142 volume facilities and lines with various probabilities that are expected to start production in 2023 or later.