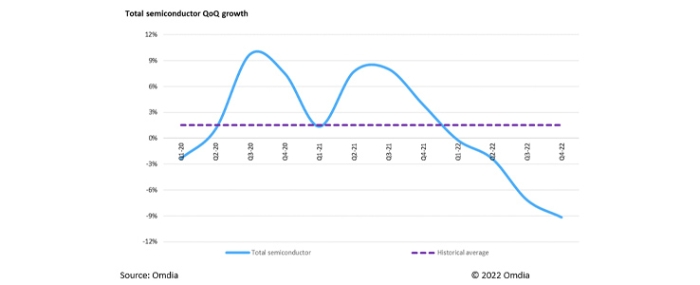 Analysis |
2022, a record year for semiconductors – but it doesn't feel like it
2022, the year that the semiconductor market reached an all-time high with total revenues hitting USD 595.7 billion, narrowly beating the previous high of USD 592.8 billion set in 2021. But why does it feel like 2022 was a struggle?
While 2022 indeed was a record year, paradoxically the semiconductor market has been in decline for four consecutive quarters – according to the latest research from Omdia – making it feel like anything but a record year at this point.
Just look at the fourth quarter of 2022, where the market dropped 9% compared to the previous quarter – the biggest decline in the current downturn. Fourth quarter 2022 revenue amounted to USD 132.4 billion, which is only 82% of the quarterly record of USD 161.1 from the fourth quarter of 2021.
All major application groups saw sales growth in 2021 of at least 10%, ranging from wired communications at 11% growth to semiconductors in consumer electronics at 36% growth. The record revenue in 2022 was on the other hand mixed, with the automotive semiconductor market recording a growth of 21% YoY. The data processing segment, on the other hand, fell 6% YoY as demand for PCs and other applications fell.
As Omdia – and many others – point out, the memory market has been hit the hardest by the current downturn. Just compare the record sales of USD 46.5 billion during the third quarter of 2021 with the fourth quarter of 2022, which was only USD 24.1 billion, or 52% of that total.
"The sharp decline in sales in the memory market is attributable to the following three reasons. One, a rapid decrease in IT demand that occurred with the end of COVID19. Two, excess inventory due to record-high investments by memory makers at the demand inflection point. Three, macro economy contraction and IT demand slowdown due to interest rate hikes by central banks of each country. In particular, the fourth quarter of 2022, prices fell significantly due to suppliers' attempts to expand sales to reduce excess inventory. Omdia expects this trend to continue in the first quarter of this year," says Omdia's DRAM Senior Principal Analyst, Lino Jeng, in the report.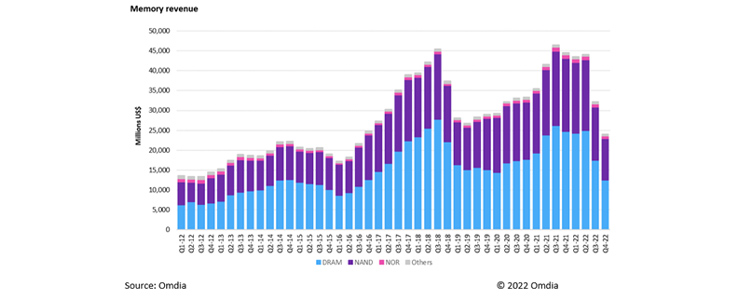 The top two semiconductor companies in terms of revenue remained in the top two, but their combined revenue was nearly USD 24 billion less than in 2021. Memory companies SK Hynix and Micron both took one step down the ladder, allowing Qualcomm and Broadcom to climb one spot each. AMD made the biggest jump in terms of position in the rankings, up three spots from 2021 – however, this is mainly due to the company's acquisition of Xilinx, which added nearly USD 5 billion in revenue.
| | | | | | |
| --- | --- | --- | --- | --- | --- |
| 2021 Rank | 2022 Rank | Company | 2021 Revenue (USD) | 2022 Revenue (USD) | YoY Growth |
| 2 | 1 | Samsung Electronics | 75,208 | 67,055 | -10.8% |
| 1 | 2 | Intel | 76,569 | 60,810 | -20.6% |
| 4 | 3 | Qualcomm | 29,333 | 36,722 | 25.2% |
| 3 | 4 | Sk Hynix | 36,778 | 34,100 | -7.3% |
| 6 | 5 | Broadcom | 21,041 | 26,956 | 28.1% |
| 5 | 6 | Micron Technology | 29,019 | 26,870 | -7.4% |
| 10 | 7 | AMD | 16,154 | 23,77 | 47.2% |
| 7 | 8 | Nvidia | 20,566 | 21,049 | 2.3% |
| 9 | 9 | Texas Instruments | 17,199 | 18,897 | 9.9% |
| 8 | 10 | Mediatek | 17,464 | 18,524 | 6.1% |
| | | | | | |
| | | Top 10 Companies | 339,331 | 334,760 | -1.3% |
| | | All others | 253,480 | 260,964 | 3.0% |
| | | Total semiconductor | 592,811 | 595,724 | 0.5% |