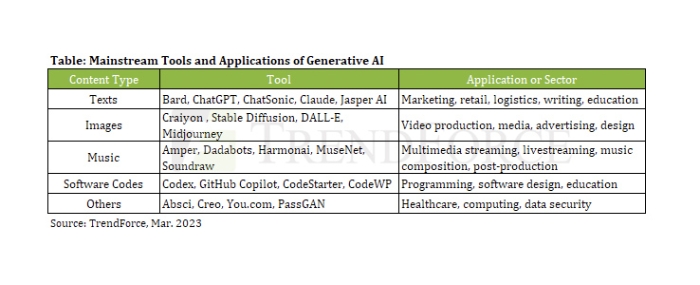 Analysis |
GPU demand from ChatGPT could reach 30,000 chips
The recent arrival of ChatGPT has generated a lot of buzz across the industry sectors related to cloud computing and artificial intelligence (AI).
Tech giants such as Microsoft, Google, and Baidu have all built products and services derived from "generative AI" technologies. According to TrendForce's latest report "Trends and Challenges in Development of AI Applications as Seen from AI Generated Content (AIGC)", this new wave of interest is expected to bring benefits to the participants across the supply chain for GPUs and AI chips.
These participants include NVIDIA, TSMC, Unimicron, AIChip, etc. However, there are challenges pertaining to the adoption and function-related optimization of products and services powered by generative AI. Furthermore, user experience is at the core of AI-based technology and involves the protection of personal information and the accuracy of the responses to content requests. Therefore, regulatory issues will likely emerge as generative AI moves to the next phase of its development.
TrendForce says generative AI represents an integration of different types of algorithms, pre-trained models, and multimodal machine learning. Notable ones include Generative Adversarial Networks (GAN), Contrast Language-Image Pre-Training (CLIP), Transformer, and Diffusion. Generative AI searches for patterns in the existing data or batches of information and efficiently outputs content that is suitable for scenarios such as data collection and analysis, social interactions, copywriting, etc. There are already many apps powered by generative AI in the market right now, and the most common kinds of output from them include texts, images, music, and software codes.
Major providers of cloud services first need to strengthen their own search engines
Data, computing power, and algorithms are the three indispensable factors that drive the development of generative AI. Also, while AI-based products and services are relatively easy to build, optimizing them is much more difficult. In this respect, the major cloud companies are in a more advantageous position since they possess huge amounts of the essential resources. From the perspective of the developers of these products, the existing chat robots such as ChatGPT are able to not only converse with users in the natural language but also somewhat meet the demand for "comprehending" users' input. Hence, having a better capability to understand what users need or desire can, in turn, provide further suggestions to users' inquiries and responses. And since using an internet search engine is pretty much a habit for the majority of people worldwide, the most urgent task of the major cloud companies is to keep optimizing their own search engines. TrendForce's latest investigation finds that Google remains the absolute leader in the global market for internet search engines with a market share of more than 90%. Microsoft with its Bing now has a market share of just 3% and will unlikely pose a significant threat in the short term. However, Bing is gaining more users that can contribute to its data feedback and model optimization cycle. Therefore, Google has to be on guard against the chance of Microsoft creating differentiation in search-related services and perhaps capture certain kinds of opportunities in the area of online advertising.
Taiwan's AIchip and eMemory are expected to profit from rising demand for GPUs and AI-related chips
Generative AI requires a huge amount of data for training, so deploying a large number of high-performance GPUs helps shorten the training time. In the case of the Generative Pre-Trained Transformer (GPT) that underlays ChatGPT, the number of training parameters used in the development of this autoregressive language model rose from around 120 million in 2018 to almost 180 billion in 2020. According to TrendForce's estimation, the number of GPUs that the GPT model needed to process training data in 2020 came to around 20,000. Going forward, the number of GPUs that will be needed for the commercialization of the GPT model (or ChatGPT) is projected to reach above 30,000. Note that these estimations use NVIDIA's A100 as the basis for calculations. Hence, with generative AI becoming a trend, demand is expected to rise significantly for GPUs and thereby benefit the participants in the related supply chain. NVIDIA, for instance, will probably gain the most from the development of generative AI. Its DGX A100, which is a universal system for AI-related workloads, delivers 5 petaFLOPS and has nearly become the top choice for big data analysis and AI acceleration. Besides NVIDIA, AMD has also successively launched the MI00, MI200, and MI300 series of server chips that are widely adopted for AI-powered applications. Regarding Taiwan-based companies in the related supply chain, TSMC will continue to play a key role as the premier foundry for advanced computing chips. Nan Ya PCB, Kinsus, and Unimicron are the island's suppliers for ABF substrates that could take advantage of this emerging wave of demand. As for developers of AI chips from Taiwan, examples include GUC, AIchip, Faraday Technology, and eMemory.
Products and services powered by generative AI will face regulatory challenges
ChatGPT has taken off to become the leader among AI-related products and services because it enables consumers to use the technology in a very convenient and interactive manner. In the future, TrendForce anticipates that generative AI in its early phase of development will mainly enter applications such as voice customer service, voice assistant, gaming, and retail. Since the major players in this market are still optimizing their products, the smaller players are also limited in their efforts to build new products. TrendForce believes the continuing growth of generative AI depends on whether the next-generation of products and services will be regarded by consumers as being both innovative and practical.
Apart from product development, the industries that are involved in generative AI will be facing challenges pertaining to regulations and training resources for machine learning. There are already concerns about whether companies that offer products and services such as ChatGPT will be able to protect the data privacy of users and ensure that certain types of content such as news are "accurate" or "authentic". In addition to these issues, there is also the matter of compliance with local laws and regulations. Turning to training resources, effective optimisation of AI models hinges on whether providers of knowledge platform services do a good job in sorting, filtering, and integrating the various types of data that are then handed to developers of AI models for training.
---
For more information visit TrendForce