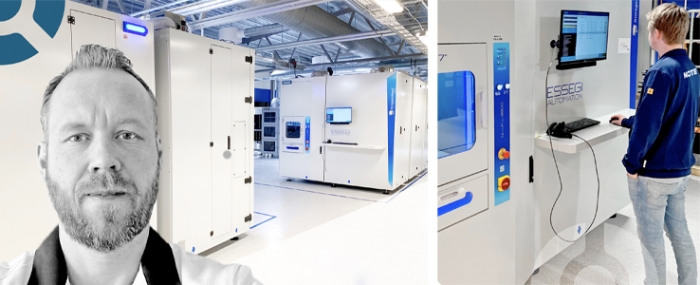 Electronics Production |
NOTE invests in new storage solution for Torsby plant
Swedish EMS provider NOTE keeps investing in its operations at its manufacturing facility in Torsby, Sweden.
The company, which is in rapid growth, found itself increasingly challenged by its manual warehouse. Not only was material pick-up and return time-consuming – going back and forth from their three assembly lines, but there was also the risk of manually misplacing materials. Adding to this, the warehouse had large areas that didn't include humidity management for MSD components.This led the company to look into upgrading its current setup, to optimise the situation.
"We knew that an advanced automated storage solution was needed. We were ambitious and the wish list was long." says Marcus Eriksson, Production Manager at NOTE Torsby, in a press release, "Naturally, storage of many reels – on a minimum of square meters – in a MSL controlled atmosphere was a must. The ability to connect to our factory software; SIMM and Material Manager was essential. And finally, we wanted to lift our storage workflow to achieve efficient quality-assured handling to bring our warehouse to the next level."
In December a new storage solution was supplied and installed at NOTE Torsby by CORE-emt. Two Essegi Storage towers solutions that combine 2 x front towers, ISM 3600 + 3 x tail towers, ISM 3900. NOTES' two new storage solutions can store as many as 18.900 8 mm reels and takes up only 20 square meters in total.
The new storage workflow saves time, both when it comes to picking and transport, as the towers automatically pick and return components.
"After only a few weeks, several of the warehouse issues we struggled with prior has been eliminated or greatly reduced. We also benefit from the more controlled material flow." explains Marcus "And as optimisation is an ongoing process at NOTE Torsby, we are already investigating several features in the user-friendly Essegi Storage Solutions, which we eventually will implement to achieve greater automation and efficiency."
The new storage towers ticked all the boxes on NOTE's wishlist – MSD control, FIFO component handling, and easy connection to the desired factory software.
"CORE-Emt have been very helpful throughout the process. From the first meeting to complete installation. After this first collaboration between us we consider them to be a stable and serious supplier." Marcus Eriksson concludes.