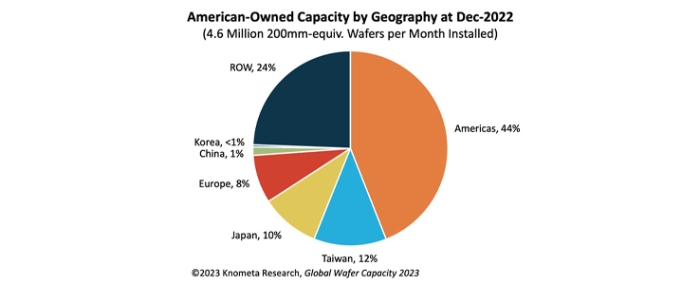 Analysis |
More than 50% of US-owned IC fab capacity exists overseas
US IC manufacturers have 56% of their wafer capacity installed at fabs located outside of the US, according to a new Global Wafer Capacity 2023 report from Knometa Research.
As of the end of 2022, US companies have an installed capacity of 4.6 million 200 mm-equivalent wafers per month, of which 2.0 million will be produced in domestic fabs and 2.6 million will be produced at locations overseas.
The Americas region is unique among the major IC-producing nations and regions – China, Europe, Japan, Korea, and Taiwan – as its foreign capacity outweighs its domestic capacity.
The biggest volumes of offshore capacity for US companies are in Singapore (22% share of total), Taiwan (12%), Japan (10%), Germany (4%), Ireland (3%), and Israel (2%).
Memory chip maker Micron is by far the biggest owner of offshore capacity. The company operates 12 fabs outise of the US and accounts for 65% of the 2.6 million wafers produces overseas. GlobalFoundries is the runner-up with a 14% share followed by Intel with 9% and Texas Instruments with 5%.
However, over the last couple of years, we've seen – and Evertiq has reported on – several major new US fab projects. Many of these were made possible by the CHIPS Act, which was passed by the US government back in July 2022. Evertiq has previously reported the U.S. CHIPS Act has already sparked USD 200 billion in private investments across the country.
While the share of the US's domestic IC wafer capacity will increase some in the next several years with the opening of these new fabs, US companies are building or have plans to build additional fabs at overseas sites as well.
And as Knometa Research points out, we also have to take into account the fact that Intel's pending acquisition of Tower Semiconductor – which has fabs in Israel, Japan and the US, will tip the scales in favour of additional foreign capacity.