Analysis | April 05, 2019
IC Insights: O-S-D hit record sales again
After a strong increase in 2018, O-S-D growth is expected to pull back in the next two years because of slowing economic growth, but optoelectronics, sensors/actuators, and discretes are each forecast to reach their third straight year of record-high revenues.
Combined sales of optoelectronics, sensors and actuators, and discrete semiconductors (known collectively as O-S-D devices) increased 9% in 2018 to reach a ninth consecutive record-high level of USD 82.4 billion, according to IC Insights' new 2019 O-S-D Report—A Market Analysis and Forecast for Optoelectronics, Sensors/Actuators, and Discretes. The new annual report shows total O-S-D sales growing 6% in 2019 to reach a record-high USD 87.1 billion. For the second year in a row, all three segments of O-S-D achieved all-time high sales in 2018 with different growth rates being driven by a variety of factors and market conditions in the year, says the new 350-page report. O-S-D products accounted for 16% of the world's USD 504.1 billion in total semiconductor sales in 2018 with the rest of the revenues coming from integrated circuits. The 2018 increase in total O-S-D sales was nearly 1.5x the average annual growth rate for these semiconductors since the mid-1990s. The O-S-D Report's five-year forecast shows revenue growth in optoelectronics, sensors/actuators, and discretes declining in 2019 and 2020 with the global economy slowing in the next two years. All three O-S-D market segments are once again forecast to reach record-high revenues in 2019 with a "soft landing" expected to occur in most product categories during the slowdown in 2020. While the expansion of total O-S-D sales was strong in 2018, this diverse group of semiconductors displayed a mixed bag of substantial and below-normal growth rates with average selling prices (ASPs) heading in different directions in the three market segments during the year, based on the findings of the new O-S-D Report.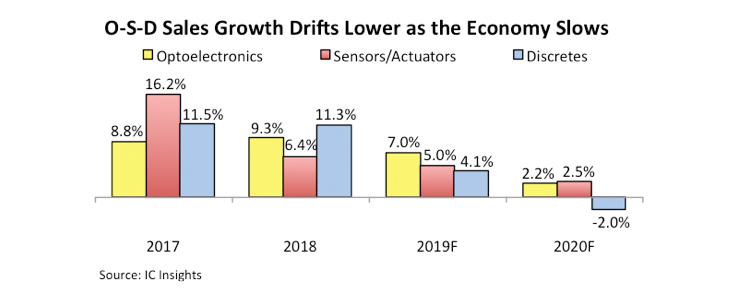 Strong unit growth in optoelectronics (+18%) offset a significant drop in ASPs (-7%) to lift revenues in the opto market by 9% to USD 40.3 billion in 2018. Meanwhile, inventory corrections and pullbacks in purchases of many sensors and actuators held back sales growth in this market segment, resulting in a modest 6% increase to USD 14.7 billion in 2018. For the second year in a row, the commodity-filled discretes market increased by more than double its historical average annual growth rate, rising 11% in 2018 to USD 27.4 billion. Discretes sales were exceptionally strong last year because continued shortages in power transistors, diodes, and other widely used devices, which caused the ASP for all discretes to surge by 12% in 2018, says the new O-S-D Report.
---
For more information visit
© IC Insights