Electronics Production | June 27, 2018
Bosch invests EUR 1 billion in German chip plant
The European chip manufacturer has started building a new factory in Dresden (Germany) that will host 700 employees and produce semiconductors for automotive technology and the IoT.
The construction of Bosch Group's wafer fab is scheduled to be completed in late 2019, when installation of the production machinery will start.
"Today we are laying the foundation stone for the wafer fab of the future, and with it the foundation for improving people's quality of life and their safety on the road," said Dr. Dirk Hoheisel, member of the board of management of Robert Bosch GmbH, at the formal ceremony in Dresden. "Semiconductors are the key technology for the internet of things and the mobility of the future. When installed in cars' control units, for example, they enable automated, efficient driving and the best possible passenger protection."
Bosch is investing roughly 1 billion euros in its new location. After Reutlingen, the Dresden plant is the Bosch Group's second wafer fab in Germany and with it, the company aims to expand its manufacturing capacity. The first employees of the appreciated 700 are due to start work in the new plant in early 2020.
Following a rollout phase, pilot manufacturing operations are expected to start at the end of 2021. The plot of land, measuring some 100,000 square meters, will also be home to a nearly 72'000 square-meter multi-story building housing offices and production space.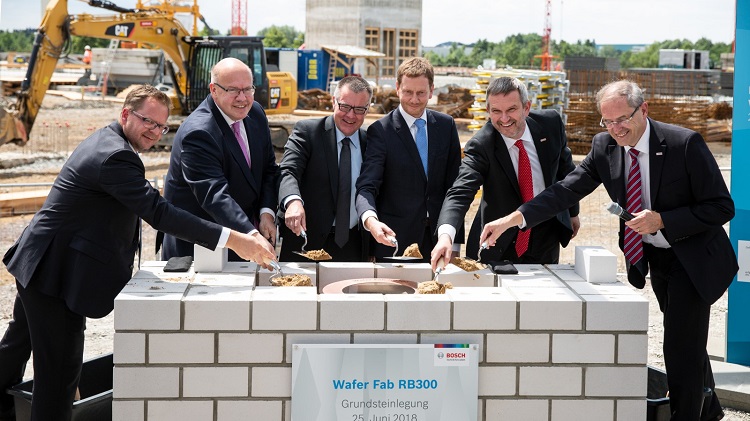 © Bosch
Load more news