Analysis | December 11, 2017
Semiconductor sales in Europe up 19.5% compared to one year ago
European semiconductor sales reached USD 3.366 billion in October 2017. This represents a 19.5% increase compared the same month one year ago, ESIA reports.
Compared to September 2017, the European semiconductor market grew by 2.6%. On a worldwide basis, semiconductor sales in October 2017 were USD 37.091 billion, up 21.9% versus the same month in 2016, and up 3.2% from September 2017. All growth figures represent a three-month rolling average.
The continued growth in Europe was driven by strength in all major product segments. Discretes, sensors, Micro-processor units and application-specific chips performed particularly well compared to September. The memory market also continued its steady growth. Looking at worldwide sales of application-specific chips, wireless, consumer, computer and automotive all went up significantly in October compared to the previous month.
Exchange rate effects kept their influence on the European October sales picture when comparing market growth in Euros and in Dollars. Measured in Euro, semiconductor sales were 2.846 billion Euros in October 2017, up 1.9% versus the previous month and an increase of 12.6% versus the same month a year ago.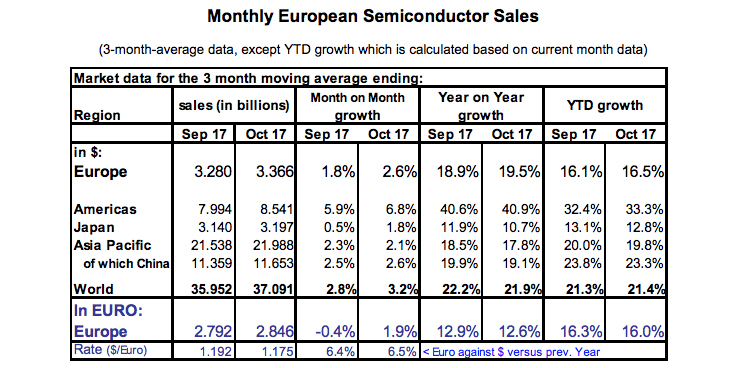 © ESIA
Load more news