PCB | November 01, 2017
North American PCB sales growth turns positive
Positive year-over-year shipment growth was seen in September for the first time this year. Strong order growth in recent months kept the book-to-bill ratio high at 1.14 in September, reports the IPC.
Total North American PCB shipments in September 2017 were up 1.0 percent compared to the same month last year. This year to date, shipments are 3.5 percent below the same period last year. Compared to the preceding month, September shipments increased 13.8 percent. PCB bookings in September increased 4.1 percent year-on-year, while year-to-date order growth held steady at 4.0 percent above the same period last year. Bookings in September were up 5.3 percent compared to the previous month.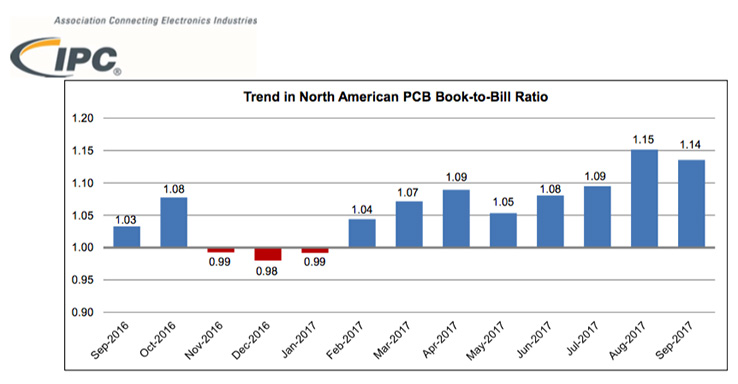 "After eight consecutive months of book-to-bill ratios above parity (1.0), North American PCB sales finally saw positive year-over-year growth in September, driven by rigid PCB shipments," said Sharon Starr, IPC's director of market research. "Thanks to strong orders in recent months, the book-to-bill ratio remained high in September, indicating a likelihood of further sales growth in the coming months," she added.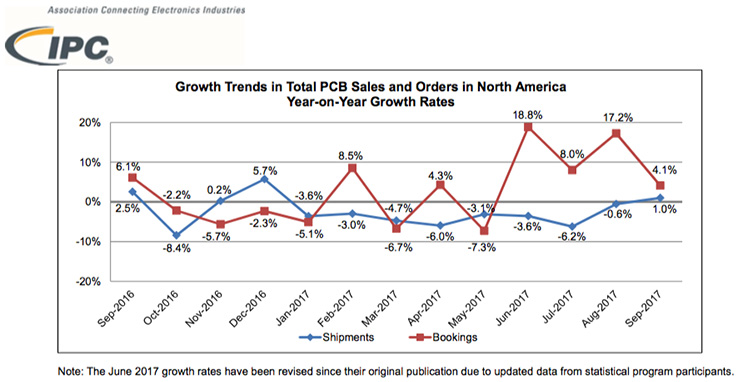 ---
Images:
© IPC
.