Analysis | February 01, 2017
North American PCB sales enjoyed solid growth in December
North American PCB sales growth in December was solid while the PCB book-to-bill ratio slipped to 0.98, reports IPC.
Total North American PCB shipments in December 2016 were up 5.9% compared to the same month last year. Year-to-date as of December, shipment growth is up 2.9%. Compared to the preceding month, December shipments increased 12.3%.
PCB bookings in December decreased by 2.2% year-on-year, reducing year-to-date bookings growth to -0.7%. Compared to the previous month, orders in December 2016 were up by 11.6%.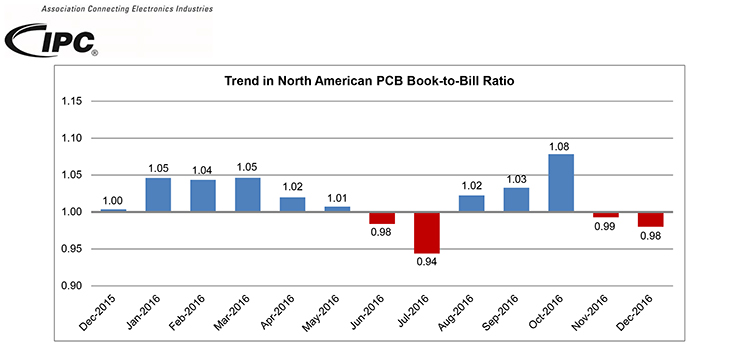 "Year-on-year growth in North American PCB sales and orders both strengthened in December, even though order growth remained negative compared to last year," said Sharon Starr, IPC's director of market research.
"The North American PCB book-to-bill ratio remained in negative territory for only the second consecutive month, which is a typical seasonal pattern in the PCB industry and not a cause for concern," Sharon Starr added. "Order growth is likely to resume in early 2017."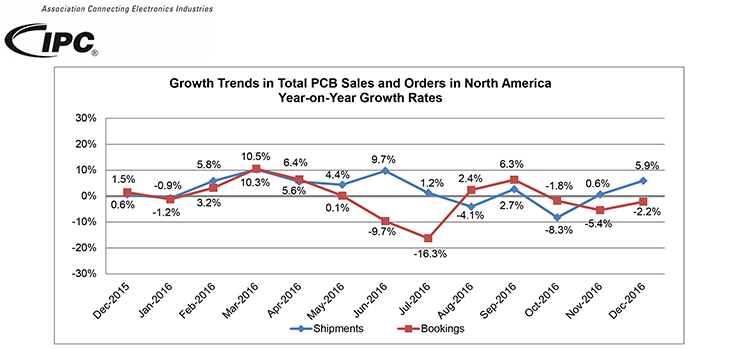 ------
Images:
© IPC
Load more news