Electronics Production | January 04, 2017
European semiconductor sales up 2.5% in November
European semiconductor sales reached USD 2.886 billion in November 2016, representing a sharp 2.5% increase from the October sales of USD 2.819 billion, ESIA reports.
The report, based on the latest WSTS figures, shows robust growth across the regions, with the European semiconductor market growing more than the worldwide average. All growth figures represent a 3 month rolling average.
Strong demand for sensors and actuators (up 5.1% compared to October) and memories (up 11.4% overall) helped boosting the overall semiconductor demand significantly. Other product categories, especially analog semiconductor devices (up 2.1%) and MOS microcontroller units (up 2,1%), also grew steadily in November.
Looking at worldwide sales of application specific chips, semiconductors designed to be used in in computers, wireless communication and automotive applications performed particularly well in November.
Some exchange rate effects were visible when comparing November market growths in euros and in dollars. Measured in Euro, semiconductor sales were EUR 2.621 billion, up 3.7% versus the previous month and a decrease of 1.1% compared to the same month a year ago.
[c]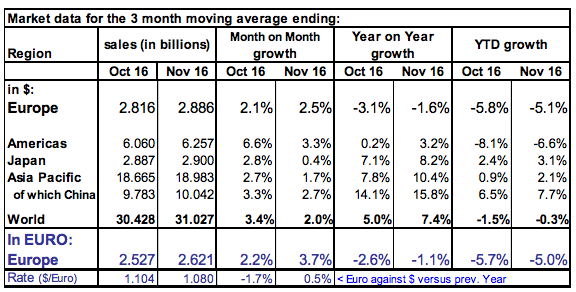 [/c]
-----
Images:
© ESIA
Related news
Load more news