PCB | December 23, 2016
North American PCB book-to-bill ratio falls but sales growth resumed
The North American PCB book-to-bill ratio fell below parity, to 0.99, while sales resumed slow but positive growth in November.
Total North American PCB shipments in November 2016 were up 0.6% compared to the same month last year. Year-to-date as of November, shipment growth is up 2.6%. Compared to the preceding month, November shipments increased 1.0%. PCB bookings in November decreased 5.4% year-on-year, reducing year-to-date bookings growth to -0.6%. Compared to the previous month, orders in November 2016 were down by 3.8%.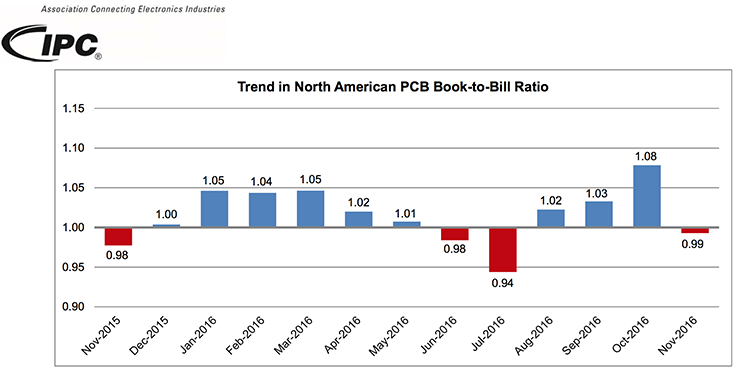 "North American PCB orders have been more volatile than usual in the second half of 2016, causing volatility in the book-to-bill ratio," said Sharon Starr, IPC's director of market research. "Year-on-year growth in both orders and sales has been trending gradually downward since last spring's minor recovery but, based on the mostly positive book-to-bill ratios of the last few months, modest sales growth seems likely to resume in early 2017," she added.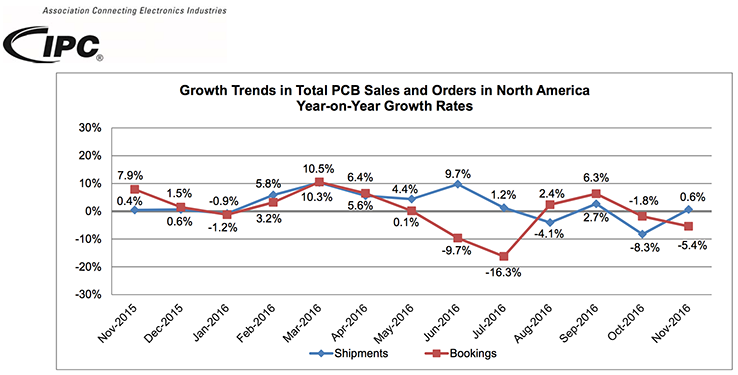 ----- Images:
© IPC