Electronics Production | November 23, 2016
Zooids – or as I would like to call them – Minions
Researchers at Stanford University's department of mechanical engineering have developed a new class of human-computer interfaces comprised of many autonomous robots that handle both display and interaction.
Zooids – as the little guys are called – are based on an open-source open-hardware platform for developing tabletop swarm interfaces. The platform, consisting of a group of wheeled robots, a radio base-station, a high-speed DLP structured light projector for optical tracking as well as a software framework for application development and control.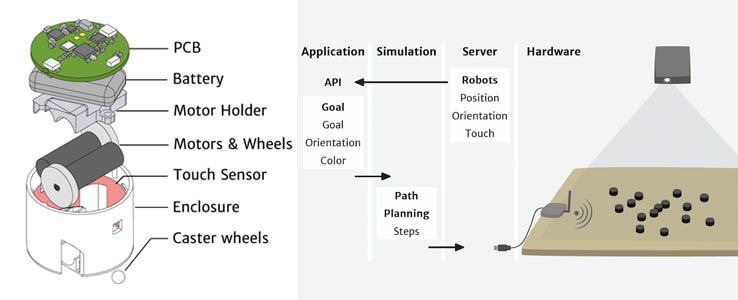 Hardware-wise the tiny guys are 26 mm in diameter, 21 mm in height and they weight about 12 g. Each of them is Each robot is powered by a 100 mAh LiPo battery and uses motor driven wheels. It contains a flexible elctrode for capacitive touch sensing. And they communicates with the main computer through a NRF24L01+ chip.
Now, fetch me my phone.
-----
Images:
© Stanford University / ShapeLab
Load more news