Analysis | June 03, 2016
TI maintains analog leadership
Infineon, Skyworks Solutions move up, ST slips in shakeup of top analog suppliers of 2015.
The 2015 analog market grew 2% to $47.0 billion. Combined sales of general-purpose analog products (amplifiers/comparators, interface, power management, an signal conversion devices) increased 2% to $19.1 billion and sales of application-specific analog devices also improved 2% to $27.9 billion. Among analog IC products the market for signal conversion devices showed the largest increase in 2015, growing 14% to $2.9 billion.
IC Insights' ranking of top analog IC suppliers for 2015 is shown in Figure 1. Collectively, these 10 companies accounted for 56% of global analog sales last year, down slightly from 57% in 2014. Among the top suppliers, nine had analog sales in excess of $1.0 billion; five of these had sales in excess of $2.0 billion. Only tenth-ranked Renesas fell short of the $1.0 billion mark. With a 10% increase, NXP's analog sales outperformed the total analog market by the widest margin.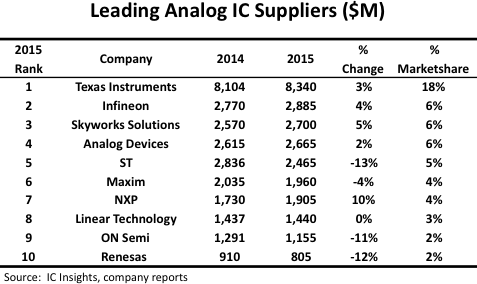 © IC Insights
Load more news