Analysis | April 12, 2016
Order intake for equipment manufacturers grows
In February 2016, order intake exceeded February 2015 figures by 7 percent (in real terms). Both domestic and foreign demand contributed to the growth.
Domestic orders (from within Germany) increased by 12 percent, orders from abroad by 5 percent. This means that the two-digit minus incured in January 2016 was partially offset.
However, the results cannot induce a spirit of optimism, explains VDMA chief economist Dr. Ralph Wiechers: "the threshhold for the order intake reached in February 2015 was quite low. Furthermore, order intake from non-euro countries turned positive thanks only to major plant engineering."
A YoY three-month comparison (December to February) also shows an increase - 2 percent - in order intake. While orders from domestic customers during this period still showed a small decline of 1 percent, order intake from abroad increased by 3 percent.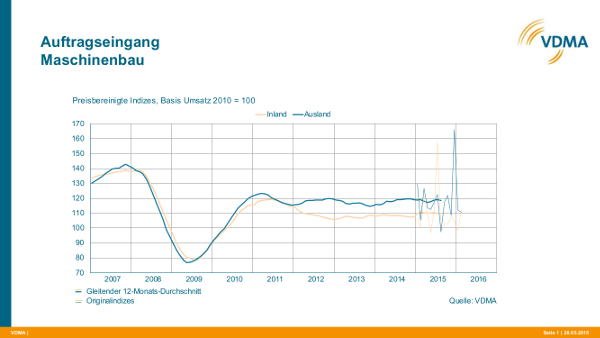 © VDMA
Load more news