Analysis | January 08, 2016
Samsung, TSMC remain tops in available wafer fab capacity
Collectively, the top 10 leaders had installed capacity of 11,737K wafers/month at the end of the year, which equates to 72 percent of global capacity and up slightly from 10,885K wafers/month or 71 percent in 2014.
Among the world's top 10 capacity leaders in 2015 were four companies headquartered in North America, two companies based in South Korea and in Taiwan, and one company each from Europe and Japan, writes market analyst
© IC Insights
in their latest report. The list includes the world's four largest memory suppliers, three largest foundries, the largest microprocessor supplier, and Texas Instruments and ST—the two biggest suppliers of analog ICs.
As of December 2015, Samsung had the most installed wafer capacity with 2.5 million 200mm-equivalent wafers per month, which represented 15.5 percent of the world's total capacity with most of it used for the fabrication of DRAM and flash memory devices.
Second in line was the largest pure-play foundry in the world TSMC with about 1.9 million wafers per month capacity, or 11.6 percent of total worldwide capacity.
Micron substantially increased its available capacity in recent years primarily through acquiring existing capacity from others. With the addition of the Elpida and Rexchip fabs as well as the extra Inotera capacity, Micron first became the third-largest wafer capacity holder in the world in 2013. Micron had the sixth-largest amount of wafer capacity in 2012, and in the beginning of that year the company acquired Intel's stake in two IM Flash Technologies fabs, giving Micron access to all the capacity from those fabs.
The fourth-largest capacity holder at the end of 2015 was Toshiba with about 1.3 million in monthly wafer capacity (8.2 percent of total worldwide capacity), including a substantial amount of flash memory capacity for joint-investor/partner SanDisk.
Rounding out the top 5 companies was another memory IC supplier SK Hynix with 1.3 million wafers/month (8.1 percent of total worldwide capacity).
Intel's capacity declined slightly in 2015 because of the company's Fab 68 in China being taken off-line while it is converted from the production of logic chipsets to next-generation flash memory (3D NAND and XPoint).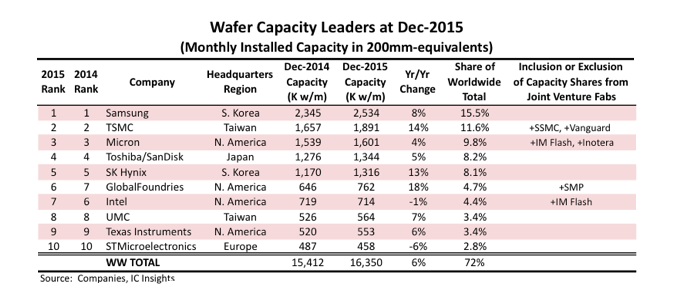 Given the skyrocketing cost of new wafer fabs and manufacturing equipment and as more IC companies transition to a fab-lite or fabless business model, IC Insights expects that an even greater percentage of fab capacity will be in the hands of fewer suppliers through the end of the decade.