Electronics Production | October 20, 2015
Strong Q2 performance by Flex
Flex – formally Flextronics – recorded net sales of just over USD 6.3 billion during the company's second quarter of fiscal year 2016.
Second quarter adjusted operating income increased 7% year-over-year to USD 196 million and was above the midpoint of the guidance range of USD 165 to USD 205 million. Adjusted operating margin expanded 30 basis points year-over-year to 3.1%.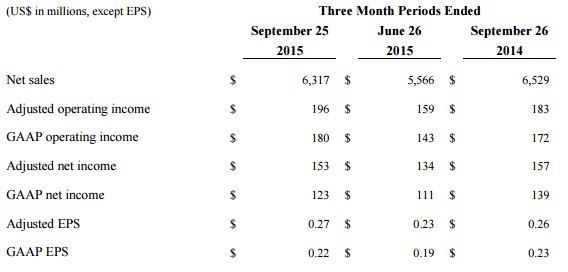 "Our strong performance this quarter was reflected in our quarterly revenue growth, improved operating margins and our continued ability to operate with discipline," said Mike McNamara, chief executive officer at Flex. "We remain committed to our strategy of expanding our sketch-to-scale offering to include exciting new partnerships such as NIKE and others that clearly demonstrate Flex's ability to provide innovative solutions for many product categories that go beyond electronics."
"We generated USD 300 million in cash flow from operations and USD 143 million in free cash flow during the quarter," said Chris Collier, chief financial officer at Flex. "Our consistent free cash flow generation reflects our strong discipline and execution and enables our shareholder return commitment. During the quarter we invested USD 142 million to repurchase almost 13 million shares, or over 2% of our ordinary shares."
-----
Images:
© Flex
Load more news