Analysis | July 07, 2015
Samsung heads capex spending in 2015
Semiconductor companies are spending more than ever to stay competitive. In 2015 the total spend across the industry is forecast to be USD 68.7 billion, up 9 percent from USD 63.3 billion in 2014.
This breaks the previous record set in 2011 at $63.8 billion, writes Semico Research Corp. What is unusual is that Santa Clara based chip giant Intel is slipping into third position.
Accounting for almost 90 percent of the total spending are fifteen companies. The top fifteen companies stayed the same from 2014 to 2015, but their order did change somewhat. The top five spenders are no surprise, with Samsung (#1) in the top spot, followed by TSMC (#2) and Intel (#3).
Globalfoundries (#4) and Hynix (#5) switched places as the foundry expects to increase spending 22 percent this year versus Hynix's 5 percent increase.
Another interesting development is the projected year-on-year doubling of capex planned by Sony: with a 207 percent increase to almost USD 2 billion. The bulk of this increase is to expand image sensor production capacity, but some will also be spent on camera module production capacity, a relatively new market for Sony.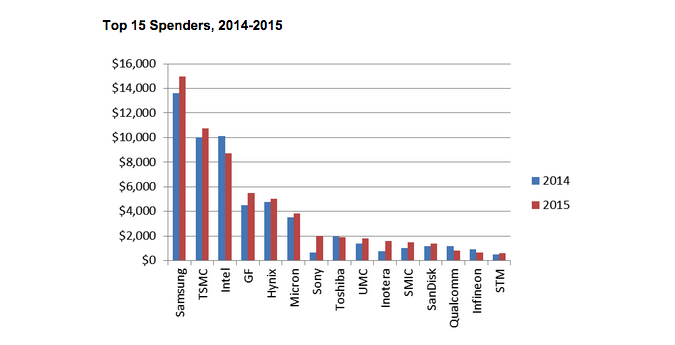 -----
More on this report; please visit
© Semico Research
Load more news