Analysis | July 06, 2015
STM, NXP, AMS and Dialog in Apple Watch
4 European chip manufacturers made it on the supplier list for the Apple Watch, a gadget said to be trailblazer for a booming wearables equipment market.
Wearable electronics is one of the consumer market's hottest topics. Indeed, giants like Apple, Samsung, Xiaomi, and Huawei are now competing for a slice of a very promising pie… states, market research organization Yole Developpement
Yole believes that the wearable industry will reach 295 million units in 2020 with a market value of USD 90 billion.
And Apple seems right at the heart of it. Taking a closer look at the chip suppliers, we can make out 4 European manufacturers that scored a design win or two: STMicro and NXP (two chip design slots each); AMS and Dialog (one each).
On the 'to be an also-run' list we see: Analog Devices, Broadcom, Elpida, IDT, Maxim Integrated, Sandisk, Skyworks, Toshiba; plus Apple as the CPU supplier.
If the forecast prove to be correct, all those companies should be more than happy.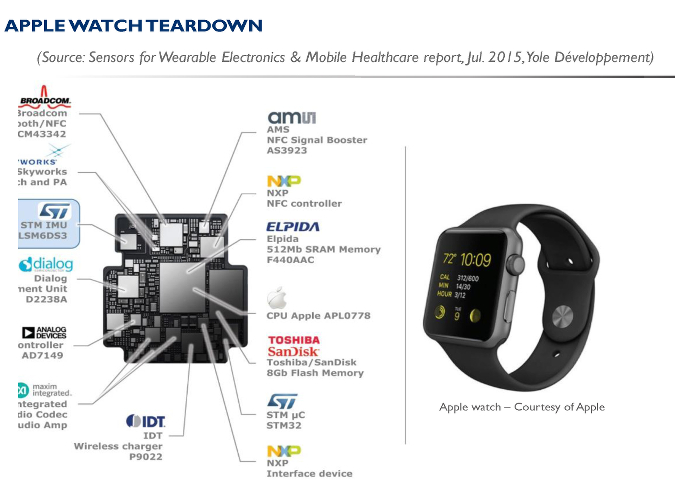 -----
© Yole Développement
Related news
Load more news