Analysis | June 02, 2015
Slight decline for European semi sales
Semiconductor sales in Europe in April 2015 amounted to USD 2.889 billion, the European Semiconductor Industry Association reported on June 1st on the basis of the latest WSTS data.
The figure reflects a slight decline in sales compared to the previous month, in line with sales developments in the other regions, with the exception of Asia-Pacific. Worldwide semiconductor sales were USD 27'602 billion in April, down 0.4% from March. All growth figures represent a three month rolling average.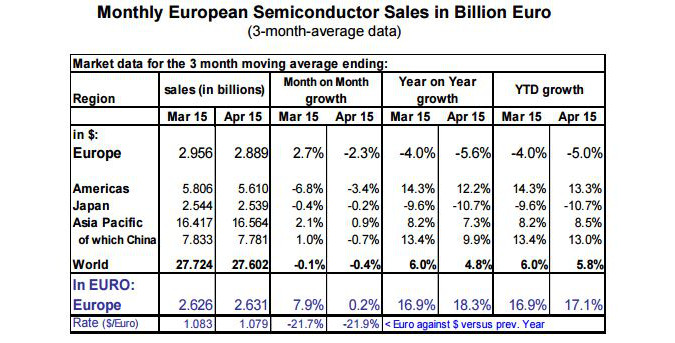 Looking at specific product categories, strong growth was observed in key segments. The European market in April was driven by sales of Diodes (up 2.7% compared to March), Optoelectronics (up 4.1%), Sensors and Actuators (up 2.9%). In addition, application specific semiconductor performed well in April, with in particular devices designed to be used in consumer and wireless communication growing by 3.2% and 1.7% respectively compared to March.
In April, exchange rate developments affected significantly the European sales picture when comparing market growth in Euros and in Dollars. Measured in Euro, semiconductor sales were EUR 2.631 billion in April 2015, up 0.2% versus
the previous month and an increase of 18.3% versus the same month a year ago.
-----
Images:
© ESIA
Related news
Most Read
Load more news