Electronics Production | May 06, 2015
Apple Watch costs $83.70 to make
Apple is not really famous for cheap prices, and tends to make quite a 'bang for its buck' on it's products, and the Apple Watch is no different. The watch actually has the lowest hardware costs compared to retail price of any Apple phone IHS Technology has researched.
The teardown of the Apple Watch Sport by IHS Technology estimates that the actual hardware costs are only about 24 percent of the manufacturer's suggested retail price (MSRP). Estimated hardware cost to MSRP ratios for other Apple products reviewed by IHS are in the range of 29 to 38 percent.
The teardown of the Apple Watch Sport 38 mm by IHS Technology shows a bill of materials of USD 81.20 with the cost of production rising to USD 83.70 when the USD 2.50 manufacturing expense is added. The retail price of the Apple Watch Sport 38 mm is USD 349.00.
The IHS Technology analysis does not include logistics, amortized capital expenses, overhead, SG&A, R&D, software, IP licensing and other variables throughout the supply chain such as the EMS provider.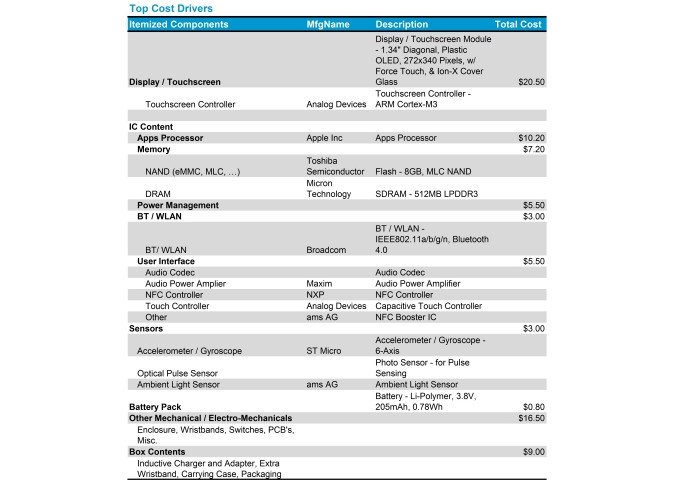 -----
Images:
© IHS
Load more news