Analysis | March 31, 2015
Intel-Altera would grab global industrial second place
Robbie Galoso, principal analyst, industrial semiconductors, for IHS has provided us with a short analysis on how the industrial semiconductor landscape would change by an Intel - Altera merger.
A potential Intel-Altera merger will generate almost USD 2 billion in industrial semiconductor revenues in 2014, which equates to nearly 5 percent of the overall global industrial semiconductor market. The merger of Intel-Altera would rank the company second, behind Texas Instruments, which is a leap from Intel's previous rank of 4th and Altera's previous rank of 29th.
The merger would achieve impressive industrial-electronics market share gains, especially in the following categories: manufacturing and process automation (ranked second globally), military and civil aerospace (also ranked second) and test and measurement (ranked fourth).
The Intel-Altera merger is complementary, given that each company essentially manufactures different types of semiconductors. The Intel-Altera merger would combine Intel's leading position in industrial microprocessors (MPUs) with Altera's second-ranked position in industrial programmable logic devices (PLDs).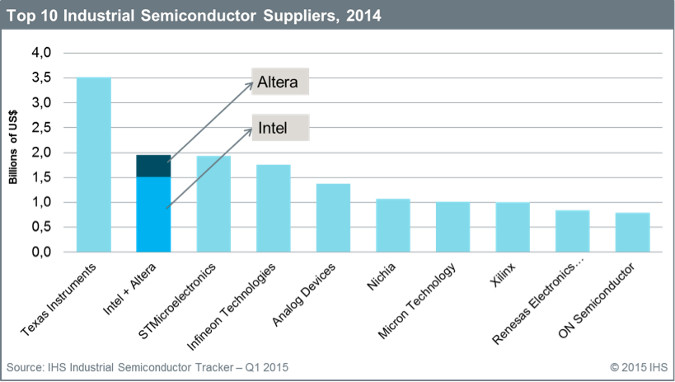 By Robbie Galoso, principal analyst, industrial semiconductors, for IHS
----
Images
© IHS
Load more news