Analysis | October 13, 2014
Major IDMs increasingly rely on foundries for Logic production
Fab-lite business model strengthens; IDMs aim to keep capex at or below 10% of annual sales.
Arguably, no other trend has so quickly swept through the IC industry and stirred up so much debate about the future of chip making as the spread of fab-lite (or asset-lite) business model, which is being embraced by a growing number of major IDMs worldwide. Most recently, large Japanese IC makers—namely Toshiba, Renesas, Sony, and Fujitsu—joined the fab-/asset-lite movement after several years in which U.S. and European IDMs started reining in capital expenditures on expensive new 300mm wafer fabs and increased their use of third-party foundries. Nearly all IDMs today (excluding giant Intel and the memory makers) are now aiming to keep capital spending at or below 10% of annual sales compared to the IC industry's average of 20% in the last decade. The advent of fab-/asset-lite strategies has led to a rash of predictions that many IDMs are on their way to becoming fabless because they have stopped investing in leading-edge wafer plants and development of next-generation digital CMOS technologies. Indeed, some IDMs have used fab-/asset-lite strategies as steppingstones to going fabless—such as LSI and Integrated Device Technology (IDT)—but many other IC manufacturers insist "lite" business models are sustainable over the long term since they've narrowed their strategic product focus to categories that do not require 300mm wafer processes or expensive fabs.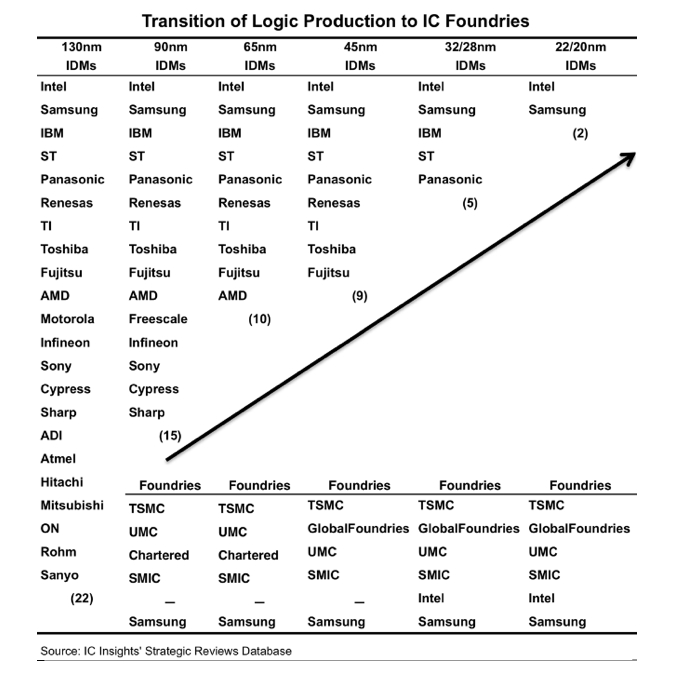 © IC Insights
According to IC Insights' recently released Mid-Year Update to the 2014 McClean Report, the number of IDMs producing leading-edge logic devices has declined from 22 at the 130nm technology node to only two at the 22/20nm technology node (Figure 1). The four major pure-play foundries—TSMC, GlobalFoundries, UMC, and SMIC—will continue to be the leading benefactors of new business that transitions away from the IDMs. With an increasing number of large semiconductor companies (e.g., ST, NXP, Infineon, Renesas, Sony, Fujitsu, Toshiba, etc.) stating their intentions to rely more on outside foundries for their IC production, it is easy to see why IC Insights forecasts foundries will impact an increasing amount of worldwide IC sales over the next several years.