PCB | August 04, 2014
North American PCB orders show improvement
Sales growth was flat in June, but orders were up and the book-to-bill ratio returned to parity, reports the IPC — Association Connecting Electronics Industries.
Total North American PCB shipments decreased 0.9 percent in June 2014 from June 2013, leaving year-to-date shipment growth flat at -0.3 percent. Compared to the previous month, PCB shipments were up 9.1 percent.
PCB bookings increased by 4.2 percent compared to June 2013, making this the first year-on-year bookings increase in eight months. This increase improved year-to-date order growth, which now stands at -6.0 percent. Order growth jumped 28.3 percent in June over the previous month.
The North American PCB book-to-bill ratio returned to parity at 1.00 in June.
"The PCB book-to-bill ratio has been hovering around 1.00 since February, which explains the flat year-to-date sales growth we are seeing," said Sharon Starr, IPC's director of market research. "This month's growth in orders is a positive sign, however, and if it continues we can expect to see sales improve later this year," she added.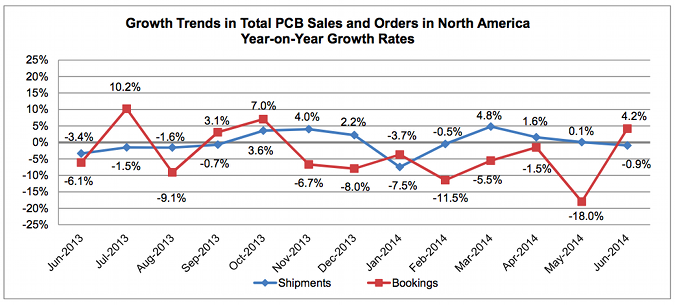 © IPC
Load more news