Analysis | March 12, 2014
Bosch is Top MEMS Maker in 2013
Bosch became the top manufacturer of MEMS sensors and actuators in 2013, pulling out of a virtual tie with STMicroelectronics the previous year, and making history in the process as the first company to reach $1 billion in market revenue, according to IHS.
As the undisputed leader of the global MEMS industry last year, Bosch boasted revenue of $1.0 billion, up from $794.0 million in 2012. It grew 26 percent during the year, four times more than the industry average, which allowed the German-based maker to leave behind its Italian-French rival after finishing neck and neck in 2012. STM, meanwhile, suffered a 2 percent decline in revenue to $777.0 million, down from $794.0 million.
Overall, the top 20 MEMS producers accounted for combined revenue in 2013 of $6.99 billion, or 78 percent of the industry total of $8.96 billion. The percentage of the top 20 a year earlier in 2012 was the same at 78 percent when the group's takings amounted to $6.60 billion, measured against industry totals of $8.47 billion that year.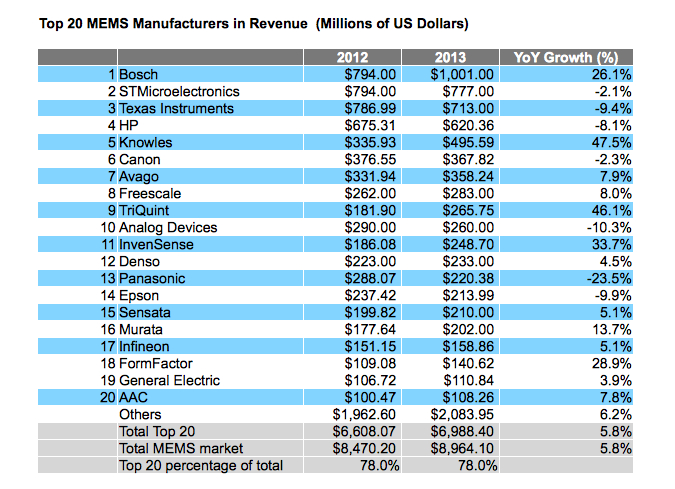 © IHS Technology
Load more news