PCB | September 16, 2013
PCB market: sales up in July 2013
Turnover for German printed circuit board manufacturers increased in July - despite the holiday period - by 5.9 percent compared to July 2012, states the Industry Association of PCB and Electronic Systems.
Particularly small and medium-sized enterprises had - due to a weaker order intake - implemented company holiday; if they could arrange it with their customers. There may have been some orders manufactured in advance and delivered at due date.
The order intake in July fell - compared to July 2012 - exceptionally much with 21.5 percent. The main reasons were atypical shifts in some large customer orders due to model changes, and the cleanup of delivery schedules. However, in July 2012 the bar was set pretty high with the highest level of order intake throughout 2012.
With a value of 0.86, the book-to-bill ratio reflects the overall poor order intake.
The number of employees increased sequentially slightly, but this is seasonal. During the summer holidays, temporary workers are employed. This should level again by late September.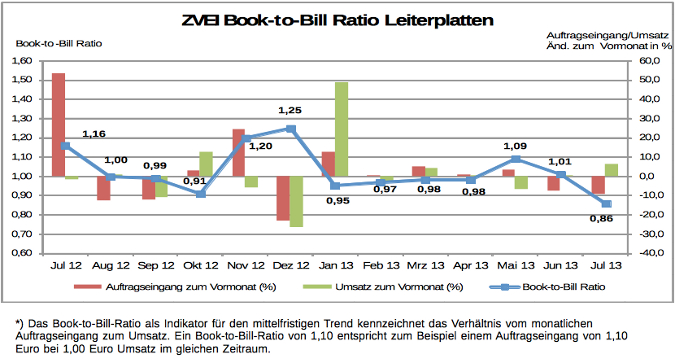 © ZVEI
Related news
Load more news