Electronics Production | January 30, 2013
Top10 customers bring 49% of revenue
Sanmina-SCI's Top10 customers in 1Q/2013 accounted for 49% of the EMS-providers revenue.
Multimedia (comprises: Gaming equipment, set-top boxes, cinematography and automotive electronics) had the biggest increase during the quarter, now contributing 14% - or USD 206 million - to the overall revenue.
Communications Networks (comprising: Networking, Wireline & Wireless Infrastructure) is still the biggest segment for Sanmina-SCI, accounting for 46% - USD 688 million - of the overall revenue.
Defense/Industrial/Medical (Industrial equipment, aerospace and defense, MRI and CT machines and clean-tech) and Computing & Storage (High-end enterprise servers and storage) follow with 25% and 15% respectively.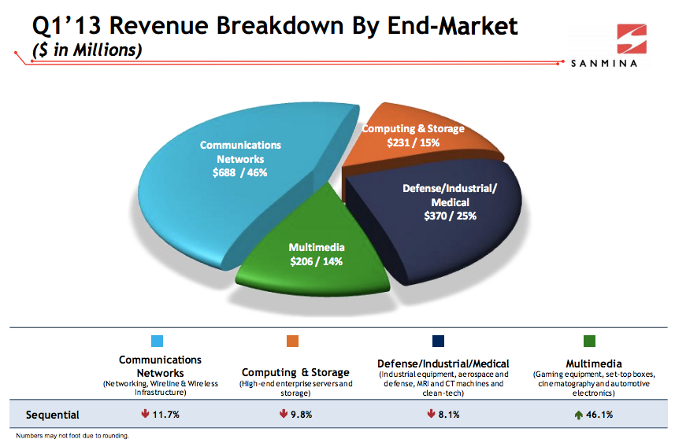 © Sanmina-SCI
Load more news