Electronics Production |
A scrambled Zenbook UX32VD coming up
Today we tore apart the Zenbook UX32VD, Asus' flagship Ultrabook. And the Zenbook lived up to its name, giving us very little frustration during deconstruction.
Even though it lost by a couple of millimeters in the slimness race against the MacBook Air, the Zenbook more than made up for it with stellar repairability. With an upgradeable RAM slot, swappable 2.5" hard drive, and a battery that can be easily replaced, the Zenbook earned an 8 out of 10 repairability score, easily trumping the soldered-RAM-and-proprietary-SSD MacBook Air's meager 4 points. Even the LCD is completely replaceable, provided you're keen on using a heat gun and exercising a bit of patience.
Bottom line? You can have a slim laptop that is repairable. It just can't bear a fruit logo on its display.
Despite being a formidable Ultrabook in its own right, the Zenbook UX32VD is often criticized for its thickness. All things considered, the "bulging waistline" of the Zenbook isn't all that considerable. When compared with a MacBook Air, it's only a few millimeters thicker at the spine.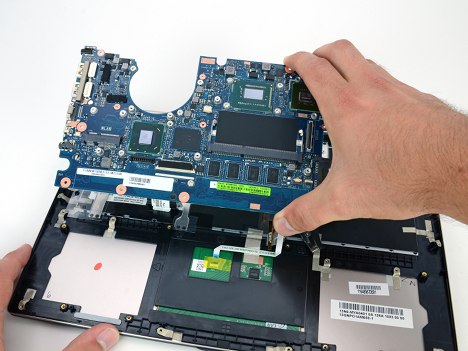 © iFixit
The stylish aluminum lower case is held in place with twelve T5 Torx screws. The cover itself is not the same quality you'd find in an Apple product, but we applaud Asus' use of non-propriatery screws. The first component to come out is the battery. Point for repairability! The battery is not glued in place, and a person equipped with the right tools can replace it in a matter of minutes. The 7.4 volt, 6520 mAh battery in the UX32VD weighs 280.5 grams, accounting for approximately 20% of the Zenbook's weight. By comparison, the battery in the 13" MacBook Air is approximately 22% of the Air's total weight at 300 grams – pretty much a negligible difference. The Zenbook comes standard with a 500 GB, 5400 RPM 2.5" hard disk drive, in addition to 24 GB of onboard SSD storage. Compared to its rivals, a 5400 RPM HDD seems a bit out of place in a $1,300 laptop. Because fans are responsible for circulating the air through the computer, they are often the component that collects the most dust. Having fans that are easy to access — like in the UX32VD — are important for making a device that is easy to maintain. It appears as though Asus didn't put too much effort into enforcing their warranty. The "void" sticker isn't some fancy disintegrating kind — just a sticker that actually retains a good amount of stickiness even after removal. We're not saying you should defraud companies — just stating fact.
© iFixit
Electronic goodies abound
Intel Core i7-3517U 1.9 GHz processor
NVIDIA GeForce GT 620M GPU
Hynix H5TQ2G83CFR 2 GB DDR3 SDRAM
Hynix H5TQ2G63DFR 1 GB DDR3 video SDRAM
SanDisk iSSD SDIS5BK 024G 24 GB SSD
Intel BD82HM76 platform controller hub
ON Semiconductor NCP3218 synchronous buck controller
ITE IT8572G
Fairchild PC78T FDMC7696
Richtek RT8168B PWM Controller
Realtek ALC269 audio codec
You've read that right, folks: the UX32VD has 1 GB of onboard video RAM. Like the MacBook Pro with Retina display, the touchpad in the Zenbook is located underneath the battery. Unlike the MacBook, though, you can remove this touchpad without destroying said battery. Not only is there no obnoxiously glossy front glass on the Zenbook's display, but the bezel comes off pretty painlessly after applying some heat and using our guitar picks to separate it from the display. But right as we were about to go ga-ga over the accessibility of this display, we had to catch ourselves: the LCD and camera cables are routed underneath a rubber gasket that was installed with a formidable adhesive. Needless to say, the gasket required lots of heat and patience to peel up. A 2MP video camera and a Realtek 5828T camera controller keep all of your recording and video chatting in check. In case you are wondering, the camera board is really thin — without the components on it, it measures at ~0.3 mm, which is about the thickness of three pieces of paper stacked together. -----
The entire teardown can be found here.