PCB | August 15, 2012
PCB revenue shrinks in May
May sales figures for German PCB manufacturers were down almost 14% YoY, reports the ZVEI PCB and Electronic Systems.
In total, sales for the first five months was 10% lower when compared to the same period of 2011. Order intake in May was slightly below the ten-year average, but 1.3 percent higher than the figures recorded for May 2011. Small companies that have specialized in designs and prototypes, reported bigger reductions in order intake. However, revenue showed a stronger decline for larger companies.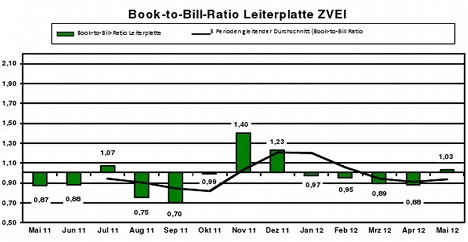 The book-to-bill ratio stood at 1.03. /
© ZVEI
The number of employees decreased only slightly from the previous month (-0.4 percent). Compared to the same month last year, the decline was 5.1 percent. This is due to restructuring measures and adjustments in individual companies.