PCB | July 27, 2012
Rigid PCB shipments down 7.3% YoY
Rigid PCB shipments were down 7.3 percent in June 2012 from June 2011, and bookings decreased 2.0 percent year over year, reports the IPC — Association Connecting Electronics Industries.
Year to date, rigid PCB shipments decreased 5.4 percent, but bookings increased 2.1 percent. Compared to the previous month, rigid PCB shipments were up 11.6 percent and rigid bookings gained 11.8 percent. The book-to-bill ratio for the North American rigid PCB industry in June 2012 continued to slip, but remained above parity at 1.01.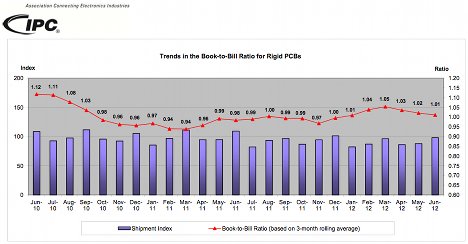 Flexible circuit shipments in June 2012 were up 2.1 percent, and bookings were down 8.4 percent compared to June 2011. Year to date, flexible circuit shipments decreased 7.1 percent and bookings decreased 3.4 percent. Compared to the previous month, flexible circuit shipments increased 29.7 percent and flex bookings were up 14.9 percent. The North American flexible circuit book-to-bill ratio remained high at 1.16.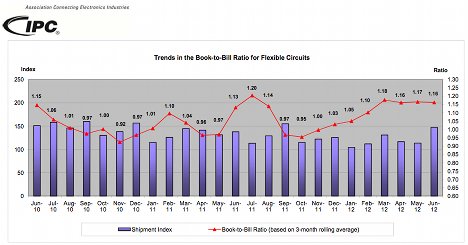 For rigid PCBs and flexible circuits combined, industry shipments in June 2012 decreased 6.6 percent from June 2011 and orders booked decreased 2.7 percent from June 2011. Year to date, combined industry shipments were down 5.6 percent and bookings were up 1.6 percent. Compared to the previous month, combined industry shipments for June 2012 increased 13.0 percent and bookings increased 12.1 percent. The combined (rigid and flex) industry book-to-bill ratio in June 2012 decreased slightly, but continued in positive territory at 1.02.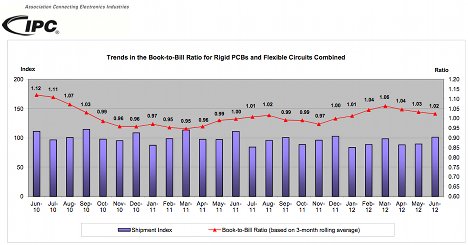 "North American PCB sales and orders were up in June compared to the previous month, which is consistent with seasonal patterns," said Sharon Starr, IPC director of market research. "Rigid PCB business continued below last year's levels, but orders continue to outpace sales, which is encouraging," she added. "The June book-to-bill ratios remained in positive territory for the seventh consecutive month and maintained an especially strong performance in the flexible circuit segment of the industry."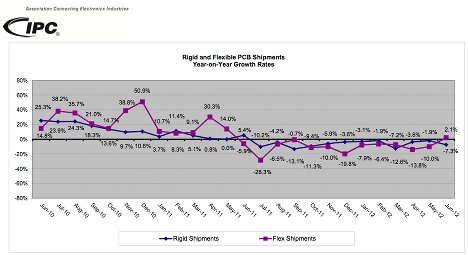 ----- All graphs
© IPC
.