PCB | July 19, 2012
PCB market normal in April 2012
April sales for German PCB manufacturers decreased 10% sequentially as well as YoY. However, figures correspond to 10-year-average, writes the industry association ZVEI PCB and Electronic Systems.
The order intake in April increased 7% YoY. YTD, order intake decreased 6% YoY. One reason - so the industry association - can be seen in the difficulties around the solar industry. Over the past few years, this industry sector has become an important customer. In addition, many orders were placed at short notice. The shifting of orders in production facilities outside Europe has also played a significant role.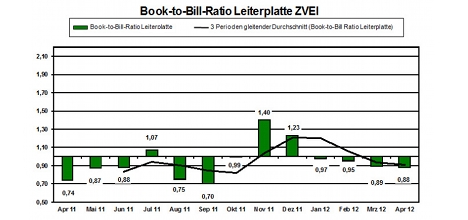 © ZVEI
The book-to-bill ratio remained almost unchanged at 0.88. The number of employees decreased 4.5% YoY. YTD, the number of employees fell by 3.2%. In contrast to previous years, companies are more flexible and use interim-staffing as a means of controlling staff numbers more often.