PCB | June 18, 2012
German PCB market decreased in March 2012 YoY
Compared to February figures, sales increased by almost 7% in March. However, figures are well below those of March 2011, reports the ZVEI PCB and Electronic Systems.
Order intake for March was lower than that reported for March 2011. Although February figures were slightly exceeded, figures - both on monthly and quarterly basis - were below those of 2011. While in previous years many orders were cancelled, customers now tend to 'reschedule'.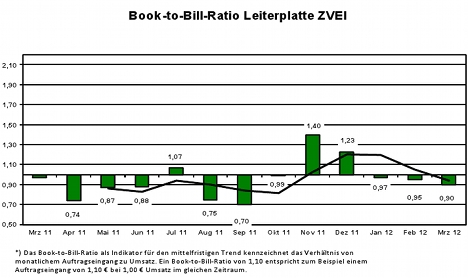 © ZVEI
The book-to-bill ratio stood at 0.90 in March 2012. Order backlogs is still well above the long-term average. The number of employees rose slightly this year, but remains 3% below that of 2011. Short-term contracts and the use of temporary staff is more common than in previous years.