Electronics Production | May 10, 2012
SMTC: highest quarterly revenue since 2006
SMTC Corporation announced its 2012 first quarter unaudited results yesterday. The company reported its highest quarterly revenue since 2006.
Revenue for the quarter was 72.5 million USD, a 29% increase over the first quarter of 2011, and a slight increase over fourth quarter 2011 revenue. The company credited the result to to increased demand from both existing and new customers.
Adjusted EBITDA was $4.3 million, versus $2.3 million generated in the first quarter 2011, and a slight increase over the fourth quarter 2011.
Co-Chief Executive Officer Claude Germain stated, "Revenue for the quarter was at its highest level since the fourth quarter of 2006. For the balance of 2012, we anticipate continued strong top and bottom line performance in line with our previously announced guidance."
"Over the next few quarters we expect to leverage our fixed cost infrastructure as we grow to further improve gross margins, and to effectively manage working capital and reduce our debt through free cash generation," stated Co-Chief Executive Officer, Alex Walker.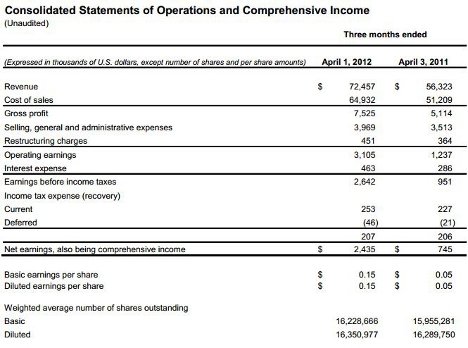 © SMTC
Load more news