PCB | February 20, 2012
PCB market booms on normalised sales
In November 2011, German PCB manufacturers reported normalised sales (long-term average), states the ZVEI PCB & Electronic Systems.
Sales figures were 1.6% higher than those recorded for October 2011; and 14% higher than those reported for November 2010. YTD, revenues increased 6% when compared the the corresponding period of 2010. Order intake skyrocketed with a 51% increase over November 2010 and a 44% increase over October 2011. However, cumulatively, order intake was 18% lower than that for the corresponding period in 2010. Reason for the unusually high orders was the severe flooding in Thailand, which has affected major automotive suppliers. In October 2011, the floods had submerged production equipment to a large extent. It is expected that a return to a normal production routine will be visible in 2Q/2012.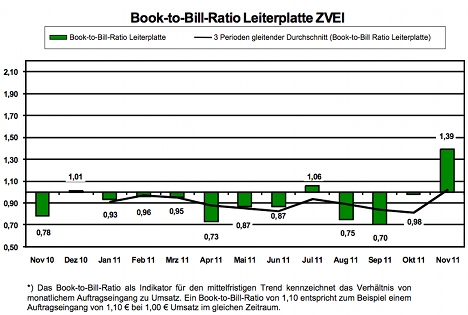 © ZVEI
As the automobile manufacturers and their suppliers still 'have much to do', PCB will be bought from authorised European suppliers. The book-to-bill ratio stood at 1.39 in November. The number of employees decreased 1.5 percent in November 2011, both in comparison with the previous month and November 2010.
Related news