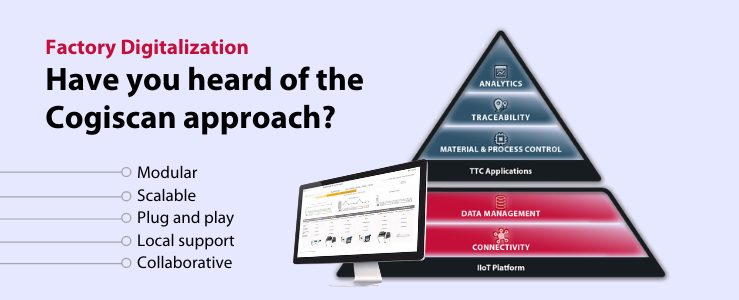 Hello Evertiq Readers
As new contributors to Evertiq.com, we would like to take this opportunity to properly introduce Cogiscan to all of you.
Cogican's beginning
It all started with a goal to make electronics manufacturing smarter. Three manufacturing engineers got together in 1999 and envisioned the factory of the future: to use information technology to seamlessly integrate all the different elements of the manufacturing process, including machines, materials, people, and enterprise systems.
That's right, Cogiscan was all about the smart factory well before it was trendy in the SMT industry.
Our solutions around the world
Since our inception, we've had the pleasure of installing our
software solutions
in more than 450 factories around the globe. We've worked closely with our clients to help optimize their manufacturing operations, from consumer electronics to aerospace manufacturers, with our factory-level TTC applications. We've learned a lot in the last 22 years. And the two most important lessons that have shaped who we are as an organization today are these:
Collaboration is essential.
Meet your customers where they're at.
Our view on Factory Digitalization
With these lessons in mind, our mission today is to guide customers to achieve their factory digitalization goals with our modular and scalable IIoT Platform. Consisting of
connectivity
,
data management
,
material and process control
,
traceability
and
advanced analytics
, our customers are encouraged to plug and play within our IIoT Platform to choose the specific applications that meet their factory goals.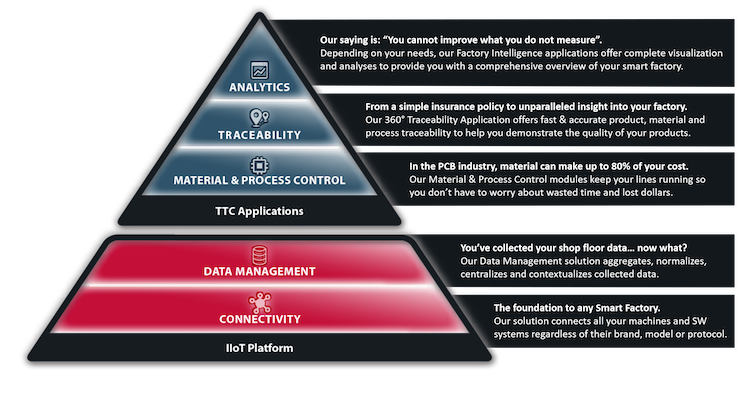 We don't see factory digitalization as an all or nothing approach, quite the opposite actually.
It's an iterative, step-by-step process that should be tailored to each individual client.
No matter where you are on the road to factory digitalization, we have a solution for you.
We believe in partnerships
Additionally, we've partnered with leading machine and enterprise software companies in the industry to ensure our solutions integrate seamlessly with many of their products. In fact, it's our position as
a neutral third-party connectivity company
coupled with our network of partners that attracted the Dürr Group, via iTAC Software AG, to
acquire us
in February 2021.
"For many years now, Cogiscan has been a key partner as we embark on our smart factory journey. Their deep expertise and innovative technologies have enabled us to stay ahead of the curve with Industry 4.0 and IIoT." Duane Macauley, President & CEO of Dynamic Source Manufacturing
Take the time to explore our
approach to factory digitalization.
Chat with a Cogiscan expert directly (no chat bots here!) and we'll help you take that first step on your factory data journey.