Long Term Storage Safe, secure storage and quality testing of sensitive components
Shortage of electronic components Worldwide there is a significant shortage of electronic components, especially SMT components. The Long Term Storage of electronic components can be the solution for this problem in the future. But the requirements for long-term storage are increasing.
Since the COVID-19 outbreak people worldwide have been forced to work and communicate from home, and sales of PC's, game consoles and other smart devices have picked-up big time. This has resulted in a very high demand and shortage of electronic components in other industries. The Long Term Storage of electronic components can be the solution for this problem in the future. But the requirements for long-term storage are increasing.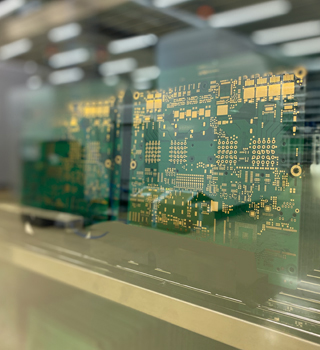 Component obsolescence
As a result of this high demand and also rapid changes in packaging design and material, many companies find themselves forced to purchase additional quantities of components in order to guard against the impact of component obsolescence on their final product designs. This in turn creates an issue of long term inventory storage.
Short product life cycles
Product life cycles have become very short with new models being released sooner than ever before. Manufacturers in the electronic industry must guarantee the availability of replacement parts including PCBs for ten or even twenty years. This again demands the advance purchase and extended storage of components and materials. Further complicating the problem is that most components cannot be stored for more than a few years without very special handling procedures. Storage of electrical (MSL) components in a safe, secure and controlled environment over a longer period of time can be a solution to avoid problems such as: Contamination, Corrosion, Diffusion, Moisture absorption, Moisture extraction, Embrittlement Solderability problems, Popcorn effect, Whisker formation, Thin pest.
Humidity.
One of many dangers posed is humidity. It is at the root of two of the biggest defect causes: Oxidation and Diffusion.

Component micro-cracking resulting from the absorption and rapid release of moisture Because of surface oxidation, components and PCB's can suffer from reduced solderability, which often results in complete failure. Diffusion of vapour and noxious substances in the inner structure of the components or PCB's can result in long-term disintegration of conductor paths and isolation layers. Both risks can be avoided by correct handling and dry storage.
The oxidation process - contact corrosion
In an ultra-dry atmosphere there is no corrosion. For corrosion to occur, two demands must be met: there must be a means of oxidation and a watery solution, which works as an electrolyte. The oxygen in the air forms the means of oxidation, the vapour (humidity) the electrolyte. The critical limit at which oxidation with oxygen takes place lies in accordance with the metal or alloy at between 40 to 70 % RH. This means that more than 8 grams of vapour per m³ must be present.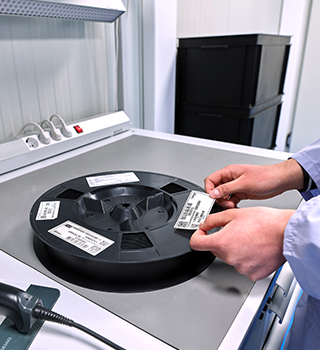 The solution
Long Term Storage Solutions is a service by Totech Europe that is compliant to international standards (J-Std 033 & IEC 62435) & uses patented technologies for temperature and humidity control to ensure components are kept in optimal conditions – typically 14˚C and <5% rH. With transparent and fully traceable logging you can access online information to verify the status of your stock in real-time. We have also partnered with RoodMicrotec to offer related high quality testing services. Comprising electrical tests and physical analysis of components prior to storage, as well as periodic quality monitoring during storage and prior to shipping components back to you. The benefits of storing your components off-site!
Components are safe, secure in a controlled environment according to International standards (J-Std 033 & IEC 62435)
Save valuable storage space
Components are kept in optimal conditions 13-14ºC and <5% RH
Check and verify your components in real time via online management logging
Keep your components in the best possible condition
Avoid the problems faced by the obsolescence of your components
Reset floor life of your components
Optimal security with our full range of interim testing regimes in cooperation with RoodMicrotec
Do you want to know more about the Long Term Storage Solutions and quality testing by Totech Europe?
Please contact us
Totech Europe BV Paxtonstraat 11, 8013 RP, Zwolle, Netherlands +31 38 2031051
superdry-totech.com/long-term-storage-solutions