Sponsored content by
SAKI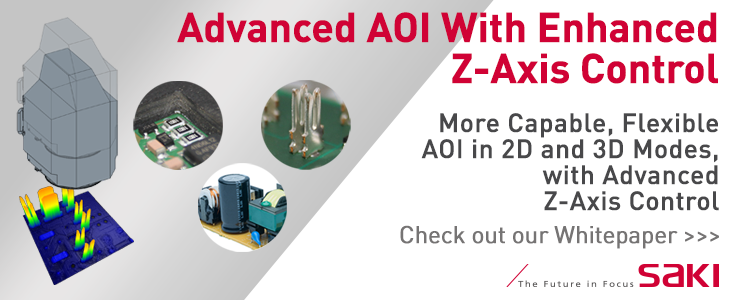 Next-Generation AOI with Advanced Z-Axis Control
Manufacturing trends such as press-fit & tall components tend to exceed the limits of AOI platforms in use today. Find out how 3D AOI with extended Z-axis capabilities can improve your productivity and maintain highest quality by downloading the free Whitepaper.
Download the free Whitepaper here
Today's electronics manufacturers are increasingly under pressure to raise throughput, reduce costs, whilst at the same time delivering ever more complex products at consistently high quality. Automated Optical Inspection (AOI) solutions must deliver enhanced capabilities to help meet these goals and address the challenges of new assembly techniques and demanding component technologies. The latest manufacturing trends such as the adoption of press-fit components and tall components are challenging the ability of AOI to help manufacturers meet their targets. In particular, they tend to exceed the usual limits of working distance and height measurement range that apply to typical AOI platforms in use today.
As a solution for these challenges, Saki has introduced extended Z-axis capabilities to its market-proven 3Di AOI systems, making a choice of enhanced Z-axis available across the entire range of 7µm, 12µm, and 18µm resolution with all the conveyor models. Components that feature press-fit or insulation-displacement terminals have become popular throughout the automotive sector and others such as home appliances. Connections are fast and easy to make, mechanically secure, and involve no soldering thereby removing one possible cause of broken connections or latent defects due to dry solder joints. However, although industries such as automotive are keen to capture these benefits, several new inspection challenges arise. Various aspects of the pins must be inspected, including pin shift, pin height, the height difference between fork pins, and the fork pin inner distance. These call for inspection over the full height of each pin, which is typically beyond the range that a typical AOI system can focus. Hence, assessment of pin tips cannot be accurate, which prevents AOI detecting defects such as bent pins or angular displacement of the connector.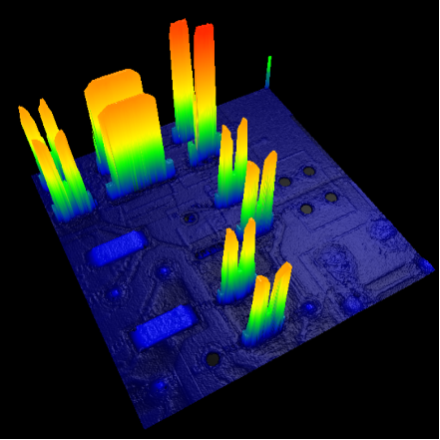 Press-fit components simplify product assembly, but new inspection challenges arise.
Another trend is greater adoption of tall components such as large surface-mount or through-hole capacitors for applications such as industrial control as well as automotive electronics. In particular, achieving adequate depth of field to capture clear images for OCR on the upper surface of tall components is a challenge. In addition, novel assembly techniques such as PCB-on-PCB are becoming used in equipment such as telecom switches, 5G infrastructure, and data center servers. Conceived to enable increased system performance within the tight space constraints imposed by standard rack dimensions, stacked assemblies challenge AOI systems in a similar way to tall and press-fit components. AOI applied at back-end PCB processing, also, is facing challenges for accurate focusing. To accelerate productivity, manufacturers are looking to perform AOI on PCBs clamped in jigs. Typical clamping mechanisms can allow significant variation in the PCB z-height, which can be as much as ± 1mm. This can be enough to prevent sharp focusing needed for accurate inspection. By enhancing the Z-axis control in the AOI system to extend the working distance, both the effective depth of field in 2D inspection and height-measurement capability in 3D mode can be increased. With such enhancements, innovative new AOI features become possible that permit fast and accurate inspection of tall components and press-fit pins and PCBs in jigs, with minimal operator involvement.

Working distance and depth of field are enhanced by height-measurement range extension.
Typical AOI systems have insufficient depth of field to focus on identification and polarity markings on tall components, as well as low-profile components, using optical character recognition (OCR). An extended working distance allows the system to refocus on tall components and combine the two fields of view to create a sharply focused composite image. Similarly, taking advantage of extended Z-height adjustment allows AOI in manufacturing to benefit from greater depth of field when inspecting PCBs mounted in jigs. With this extra flexibility engineered into the system, AOI can offer important new capabilities that enhance inspection of not only regular PCBs but also assemblies containing tall components or PCB-on-PCB assemblies. Saki's extended Z-axis capability of the 3Di-LS2 AOI system now features extended working height that effectively doubles the maximum height-measurement range in 3D mode, which is increased from the typical industry benchmark of 20mm to 40mm. The maximum focus height in 2D is also increased to 40mm. In addition to allowing image refocusing for OCR and focus adjustment for PCBAs in jigs, this enhancement allows further important new features including extended height reconstruction. Extended height reconstruction overcomes the challenges presented by tall press-fit pins. The full height of pins over 20mm can be measured to capture clear 3D image and accurate height measurements to help identify any defects.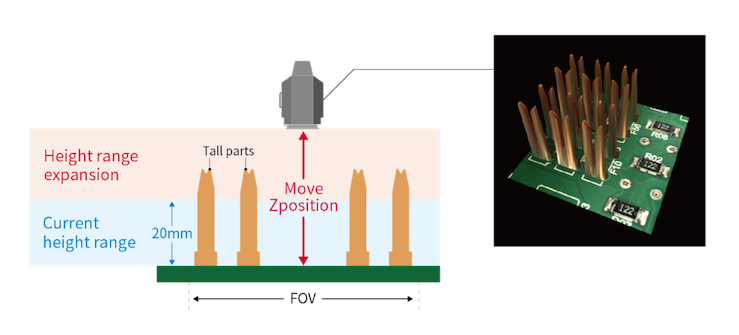 Press-fit inspection challenges are overcome with extended 3D height measurement.
Enhanced flexibility in the Z-axis, with precision control and new inspection algorithms, enhance 2D image capture and 3D height measurement to permit important new features such as focus adjustment modes that facilitate inspection and simplify setup to support the accelerating pace of productivity. Automated optical inspection (AOI) solutions such as those offered by Saki are essential to achieve the high throughput and repeatable performance electronic manufacturers demand, and to capture and store reliable data for analysis and traceability. For tips about how you can improve your productivity whilst maintaining highest levels of quality assurance, please
download the free Whitepaper.