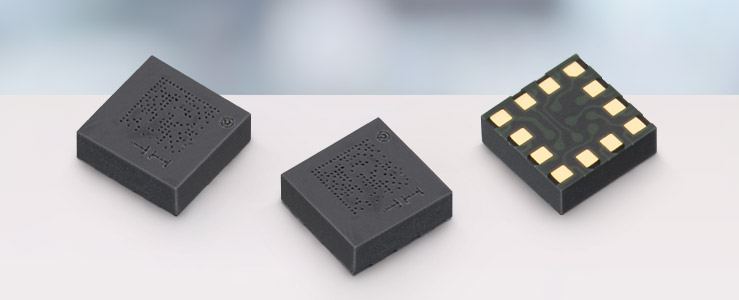 Versatile motion sensor by Würth Elektronik
With its integrated temperature sensor, the WSEN-ITDS directly outputs calibrated and temperature-compensated data. The tiny 3-axis acceleration sensor can easily be deployed in a wide range of applications.
The sensor, which is offered in an LGA package measuring just 2.0mm × 2.0mm × 0.7mm, uses MEMS-based capacitive measurement. The sensor features independent internal data pre-processing, meaning that it only passes information on events that are significant to its defined task. This is a great benefit to the application as significantly less data needs to be transmitted and evaluated compared to other sensors. A microcontroller, which is supplied by WSEN-ITDS with information about motion events, requires less energy to operate and can remain in energy saving mode for longer periods. It only needs to become active when a relevant event is detected by the sensor, and this information is transmitted by an interrupt signal. The conditions for the 'waking' event are user defined. A good example is the ability to detect free fall from the sensor. If the user has activated this mode, it means that the sensor will give a separate signal (interrupt) as soon as it is in free fall. The following basic configurations are available… • Four measuring ranges: ±2g, ±4g, ±8g or ±16g • Three operating modes: High Performance, Normal and Low Power • Output data rate up to 1,600Hz • Application-specific functions: freefall, wake-up, jog, activity, motion and orientation detection – all easily selectable via register settings The acceleration sensor can be used in many different ways. For example, in vibration monitoring for machine predictive maintenance applications with its high resolution and output data rate up to 1,600Hz. Or in low-power mode for detecting a single pulse, for instance as a switch that is tapped. In this case the energy-saving sensor can even be operated with
Energy Harvesting
functionality. The ability to use integrated algorithms to prepare measured values for applications already provides a huge simplification for application developers. The fact that both SPI and I²C are available as interfaces also gives exceptional flexibility in the use of controllers and existing interfaces. The WSEN-ITDS is specified for a temperature range of -40 to +85°C and is therefore ideally suited to industrial applications such as decentralized measurement data acquisition in IoT networks. The advantages of the WSEN-ITDS acceleration sensor from Würth Elektronik include: • Easy to configure operating modes; easy to integrate via SPI and I²C • Economic power supply through Energy Harvesting • Versatile: from fall sensor to vibration monitoring • Evaluation Board available • Support up to design-in consulting • Available from stock and no minimum order quantities
Sensors from Würth Elektronik – more benefits than you might expect
The 3-axis acceleration sensor WSEN-ITDS is part of a product family of sensors for industrial applications. That family also includes the
WSEN-TIDS
temperature sensor, the
WSEN-PDUS
differential pressure sensor, the
WSEN-PADS
absolute pressure sensor and the
WSEN-HIDS
humidity sensor. All are high-precision and at the same time robust MEMS systems in tiny form factors ideal for the smallest of spaces. Their advantage? All sensors from Würth Elektronik offer calibrated, temperature compensated and pre-prepared data. This allows the sensors to be conveniently integrated in a wide range of applications. You can select different operating modes and sampling rates. And the current consumption can be reduced to a level that allows decades of battery operation or even energy harvesting functionality to operate your sensor system. Get to know our smart sensors now; sensors that only pass on measured values that your application really needs.
Find more informations...