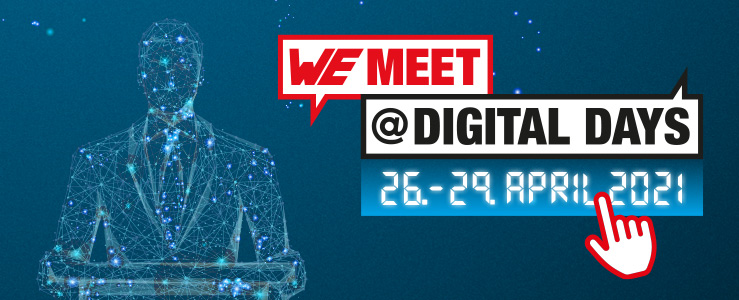 Four days of concentrated electronics knowledge
Würth Elektronik invites you to a virtual conference with expert presentations on EMC, thermal management, power management, connectivity, and many other circuit design topics from April 26-29, 2021 from 8 am to 6 pm CET each day.
After the overwhelming success and the positive feedback from the audience of the digital days in December 2020, Würth Elektronik eiSos extends the digital days 2021 from three to four days, expands the range of topics and brings partner companies on board. Once again, developers are invited to get lots of practical tips, background information, and application examples on a wide range of topics to benefit from them in their daily work. All online seminars will be held by experts from the respective product divisions at Würth Elektronik: Passive & Electromechanical Components, Power Modules & Optoelectronics, Automotive, Frequency Products as well as Wireless Connectivity & Sensors and Custom Magnetics. Presentations of relevant product news and partner lectures complete the program. The digital conference "WE meet @ digital days 2021" is free of charge for visitors. Interested parties simply register for their selected digital days sessions at www.we-online.com/digital-days. The presentations will be held in English and will also include an interactive part. "More than you expect" is the motto of the component manufacturer - and the lecture program impressively underlines how much it cares about supporting developers. The new EMI filter designer in the REDEXPERT simulation software or the new thermal management product area are examples of tools for optimizing electronic boards. With its high level of expertise in EMC issues, Würth Elektronik provides valuable insights for the early avoidance of errors in the design of circuit boards. This saves time, costs, and nerves. Topics such as energy harvesting or new radio communication solutions will provide participants at the "WE meet @ digital days 2021" with ideas for future-oriented product developments. All technical and technology presentations at the virtual conference end with a question-and-answer session and can thus be the starting point for individual support right through to design-in assistance. Are you interested in combining wireless power with wireless communication? In filter design of power modules or gate driver design? Super capacitor applications or oscillators? Sensors, switches, optoelectronics? See for yourself what the extensive and diverse program of the online congress can offer you and where you want to get targeted support for yourself and your work. Register today:
WE meet @ digital days 2021
.