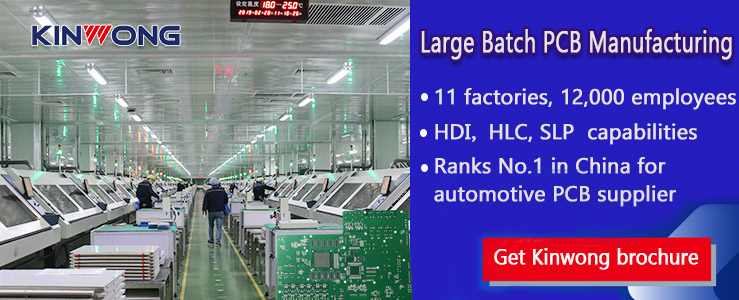 The development trend of printed circuit board products and Kinwong's solution
With the rapid development of electronic technology in recent years, printed circuit board (PCB) products are pursuing higher heat dissipation capabilities, with high voltage and high current characteristics, and are developing towards high-density interconnection technology (HDI).
Kinwong is a PCB manufacturer headquartered in Shenzhen, China, with 28 years of manufacturing experience and ranks 20th in the PCB industry globally. Kinwong has Multiple Technology Capabilities, such as PCB, FPCB, MPCB, SLP, HLC. The picture below shows the specialty of Kinwong's nine factories (now are 11 factories).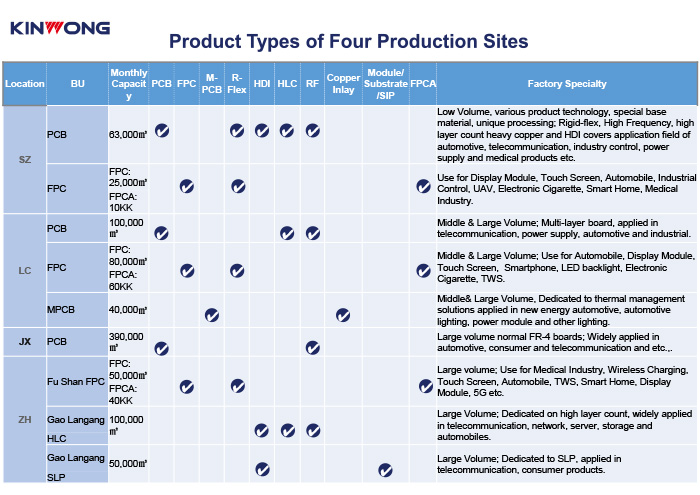 Even when faced with Covid-19, Kinwong has achieved revenue of more than 1 billion USD in 2020. Kinwong has 11 factories in the four major production bases in China, employs 12,000 people worldwide, and provides global localized FAE and business development support. Kinwong cooperates with numerous top brands in the world with an excellent reputation.
Automotive-Development Trend & Kinwong's Technical Solution 1. E-mobility
● High Power ● High Voltage ● High Current ● Thermal Management Solution
Cu/Aluminum-based IMS
Cu Pedestal High Thermal Conductivity Excellent thermal performance Good electrical performance
Heavy Copper
Less Thermal Stress Max. 6oz base Cu UL recognized
Cu/AIN Inlay
"I","T","U"-shaped Cu Coin Max. ±30um height performance
2. ADAS /Autonomous Driving ●Higher Transmission Rate ●Lower Loss High Frequency Millimeter Wave Radar
HC/PTFE-based Raw Material Hybrid | Blind Via High Accuracy Copper Image Pattern(±15um) High Layer Registration (±5mil)
HDI
2+N+2 0.65mm BGA Pitch (Better in 2021 Zhuhai Factory) 60um/60um Trace Width/Spacing
Large-size Display Screen FPC
● More Feature-rich ● Last Longer ◗ Longer Finger Pitch length (>100mm) ◗ Surface Finish: ENIG ◗ Drill Hole Min. 0.1mm, Laser Blind Via Min. 0.05mm ◗ Min. Trace Width/Spacing of 45um/45um ◗ Impedance Control
Battery Management System FPC ●High Heat Resistance ● High Power
◗ FPC Length is more than 1000mm ◗ Copper Thickness > 2 OZ ◗ 3D Stiffener Assemble ◗ Conformal Coating for Component
5G Development Trend & Kinwong's Technical Solution
● High Speed ● Super Transmission Rate ● Lower Loss
High Layer Count
Large Panel Size Small Hole Backed Drilled POFV Skip Via Impedance Control Insertion Loss
Optical Module
ENIG/ENEPIG+G/F High Speed Material Hybrid HDI | N+N | Cavity Cu Inlay Segmented/Graded G/F Tight Size Tolerance
Antenna
2L~4L High Frequency Material Hybrid Cavity Strict RF Trace ToleranceAntenna
TRX/PA/Base Band/Backplane
Large Size Back drilling POFV Half-plated Hole Edge Plating
Consumer Products Development Trend & Kinwong's Technical Solution
● High Density ● Small Hole Size ● High Capacity ● Light & Thinner & Much More Mini
HDI
◗ 3+N+3 ◗ Anylayer (Zhuhai 2021) ◗ SLP (Zhuhai 2021) ◗ mSAP (Zhuhai 2023) ◗ amSAP (Zhuhai 2023) ◗ Min. Trace Width/Spacing of 30um/30um ◗ Stack Via/Stagger Via/Step Via ◗ Min. Board Thickness of 0.2mm
5G Cellphone 5G Antenna FPC 5G Transmission Line FPC
◗ PTFE/LCP/MPI-based Material ◗ 3L~4L ◗ Laser Drilled Blind Via ◗ Copper Filled Via ◗ Impedance Control ◗ Insertion Loss Control ◗ Signal Simulation ◗ 3D SUS Stiffener
Unmanned Aerial Vehicle ( UAV ) UAVs FPC
◗ L1~6L ◗ Drill Hole min. 0.1mm, Laser Blind Via min. 0.05mm ◗ Min. Trace Width/Spacing of 45um/45um ◗ Surface Finish: ENIG & ENEPIG & OSP ◗ Impedance Control ◗ 3D SUS Stiffener
Industrial & Medical Device's Development Trend & Kinwong's Technical Solution
● Long Term Reliability ● High Stability
Rigid-Flex
◗ ENIG/LF HASL/OSP ◗ Max.16L ◗ Max. 6L Flexible Layer Count ◗ Flexible Area with Different Layer Count ◗ CVL at Rigid ◗ HDI ◗ Gold Finger Design ◗ Dispensing ◗ ±10% Impedance Control
Semi-flex
◗ Max. 2L Bendable Layer ◗ Bending Area Thickness, 0.25mm±0.05mm ◗ Bending Angle 0~180° • Portable ● Miniaturized ●Intelligent
Rigid-flex
◗ Bendable and 3D assembly for small size ◗ Middle/High Tg Base Material ◗ Soldermask Plugging
Contact info: www.kinwong.com Email: marketing@kinwong.com Germany: +49 151 5787 6249 (Mr. Bischoff) USA Eastcoast:+1-540-816-2419 (Mr.Wilson) USA Westcoast: +1 847-707-6400 (Mr. Bickner) United Kingdom: +44 7943 781 279 (Mr.Lumsden)